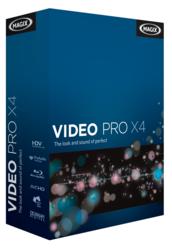 Video software for intuitive and powerful video production
Reno, NV (PRWEB) February 28, 2012
MAGIX AG, One of the leading international providers of software, online services, and digital content, has announced the release of Video Pro X4.
Video Pro X4, with advanced format and hardware compatibility, an optimized timeline, and high quality third party plugins, the professional video editing software MAGIX Video Pro X4 is ready for the new season. Thanks to the integration of Intel® Quick-Sync-Video, OpenCL™ and CUDA, you can reach the finishing line faster than ever before. The optimized timeline allows you to adjust basic settings such as volume and transparency directly in the track header. Audio tracks can be merged with video tracks to keep the overview simple and clear even for very large projects. This clarity is continued on the object level with colored visuals. New features allow for more precise control, such as the dynamic slow-motion effect, that can be controlled with key frames and calculates intermediate images even with extremely low time values, to guarantee a smooth picture.
New features:

Innovative open Timeline with optimized object handling
Hybrid Video Engine (supports Intel® Quick Sync Video, CUDA and OpenCL)
Professional format support (XDCAM, AVC-Intra, DVCPRO50/HD etc.)
Primary and secondary 3-way color correction
MultiCam Editing on up to 9 tracks
Full Stereo3D support
Three and four point editing
Precise Surround Sound audio editing in broadcast quality
Disc authoring for DVD, AVCHD and Blu-ray Disc
Broadcast quality file export with batch processing
Advanced Hardware and Format compatibility
Professional monitoring plays an important role in post-production. MAGIX Video Pro X4 takes this into account with the integration of the Blackmagic Intensity/DeckLink for preview images in HDMI quality and genuine 1080i on flatscreens and control monitors. The program has always been compatible with trendsetting formats such as ProRes, DnxHD, and MVC and the latest version goes even further with improved support of XDCAM .
First Class Plugins from Third Parties such as Red Giant, Digieffects and NewBlueFX
Particle simulation, glittering light fades, and film look templates - an effects package worth several hundred euros, will make your professional productions even more exciting. Digieffects Phenomena, Red Giant Magic Bullet Quick Looks and NewBlueFX Light Fades make up this power trio that, together with improved templates, is leading a new wave in content quality.
Full details of the New Features and Improvements
Price & Availability:
Video Pro X4 is available now for SRP $399.99 from Amazon, Fry's, Micro Center, Newegg.com, and Tiger Direct. For more information, please see: pro.magix.com
About MAGIX:
MAGIX is a leading international provider of high-quality software, online services and digital contents for multimedia communications. Since 1993, MAGIX has been developing leading technologies for creation, editing, management and presentation of photos and graphics, videos and music. Internationally, MAGIX operates from branches in the USA, Canada, the UK, France, Italy, Spain and the Netherlands. The product range is targeted towards laymen and professionals alike and goes beyond the PC range to include seamlessly integrated online and mobile applications.
According to its retail sales figures, MAGIX leads in the multimedia software sector in Germany and the most important European markets, and is one of the most successful competitors in the USA.
Music, photo, and video software from the market leader - MAGIX
MX - MAGIX Media X-change
MX stands for Media-X-change - the idea being based around simplified media and data exchange within MAGIX programs and services. In time to come, all products of the MX Series will be able to exchange data between each other – directly from the application – and will strengthen the interaction with Cloud services, mobile devices and social networks.
For further information, review copies, or additional images please contact:
Nova Fisher
Tel: +44 1442 351035
Email: nfisher(at)magix(dot)net
###