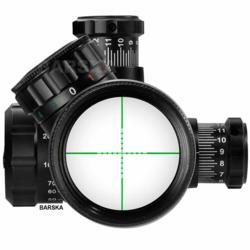 tactical scopes feature a next generation dual illuminating mil-dot reticle
La Verne, California (PRWEB) February 29, 2012
New tactical scopes by Barska feature a next generation dual illuminating mil-dot reticle. When the mil-dot reticle is not illuminated it is a standard black reticle. Low light or silhouette shooting where the actual point of impact maybe black can cause a normal black mil-dot target to get lost in the black background. An illuminated reticle like the one built in to the barska next generation tactical scopes, allow shooters to illuminate the reticle with green or red light. Precision external adjustments of the reticle allow for a wide range of movement for windage and elevation.
The new 6-24x50 IR (AC11672) and 10-40x50 IR (AC11674) second-generation tactical riflescopes feature a side adjustable parallax (focus) for long range targeting. These two models features mid to high magnification needed for extreme long distance shots. These long distance riflescopes are built to withstand the shock and energy generated by high caliber rifles. For bright vivid views of a target these tactical scopes are designed with a strong 30mm tube and large 50mm objective lens. These key design features allow maximum light gathering capability for low light targeting at dusk and dawn.
The popular 4-16x50 IR (AC11670) tactical scope by barska has been upgraded to feature a stronger shockproof 30mm tube and a dual red-green mil-dot reticle. This is a popular choice for AR rifles and bolt-action rifle for its excellent low-light performance. At and ideal zoom range of 4-16x both mid the long-range shooters can use this riflescope. The new second-generation tactical 4-16x50 IR scope features precision 1/8 click adjustments for fine reticle adjustments. The new design features a 45 degree offset illuminated reticle adjustment, which allows for a direct view of the elevation adjustment from the shooting position.
The new compact 3-9x42 IR (AC11668) tactical scope is the ideal short body AR 15 scope. This compact short scope is only 10 inches long including built-in sunshade. Compact but full features the 3-9x42 IR has a locking windage and elevation that can be re-zeroed quickly. A center locking bolt on the top of each turret allows a shooter to reset the windage and elevation scales. Top rated, this scope has all the features an AR rifle shooter needs. All Barska tactical rifle scopes are backed by a limited lifetime warranty.
BARSKA, with corporate offices, warehouse and distribution in La Verne, CA (Southern California), is a worldwide sport optics company with strong brand recognition in the sporting goods industry. BARSKA offers an extensive line of precision sport optics products ranging from binoculars, riflescopes and spotting scopes to telescopes and flashlights. BARSKA is committed to delivering a superior quality product at an affordable price to our customers around the world. For more information, please call BARSKA at 1-909-445-8168, or visit them online at http://www.barska.com
###