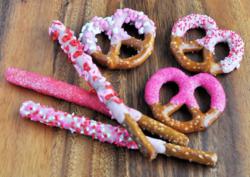 Our readers are always telling us that they want to see recipes with real photos of real food made by real people
Blaine, Washington State (PRWEB) February 29, 2012
Website traffic, Twitter retweets and now Pinterest pins continually prove that blog readers want to see recipes with sumptuous - but realistic - photos.
A huge trend in food blogging is taking several photos throughout preparation. These step-by-step photos make recipes even easier to follow and more fun to browse through.
5MinutesForMom.com has always been focused on bringing together the blogging community and highlighting talented bloggers; many with a penchant for photography. As such, with the launch of the new 5 Minutes For Food column, they are featuring recipes from long time bloggers such as Cat Davis, Rachel Lacy and many more.
Traditionally food photography hasn't been based on reality. Trained professionals have fabricated what they believe people want the food to look like and gone to any length to make the food photo worthy.
But these days, people want the truth. If a mom is selecting a recipe to prepare for her family, she wants to know that someone just like her, followed the recipe in a regular kitchen just like hers, and the result is accurately depicted in the photo.
"Our readers are always telling us that they want to see recipes with real photos of real food made by real people," says 5MinutesForMom.com co-founder Susan Carraretto.
Food bloggers meet that need perfectly. These cooks are often not formally trained as chefs nor as photographers and that actually increases readers' trust. When parents are preparing meals for their families, they want to follow simple, solid steps and get what they expected.
As high quality digital cameras enable professional quality photos, the number of food blogs has exploded.
While 5 Minutes For Mom has often published Food posts in the past, they are now taking a bigger step forward to commit to regularly bringing their readers weekly recipes that families will love.
5 Minutes For Food will emphasize recipes for food that the entire family will enjoy. Parents want to find clever ways to create healthy and tasty dinners that their children will actually eat and 5 Minutes For Food will give them what they want.
###