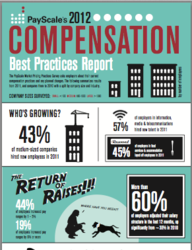 Seattle, Washington (PRWEB) February 28, 2012
PayScale, Inc., the leader in compensation data and software, reported the results today of its annual survey of employers on compensation best practices. The full report, PayScale's 2012 Compensation Best Practices Report, is available at http://www.payscale.com/hr/compensation-practices-survey.
As it has done for the past three years, PayScale surveyed businesses across the United States and Canada on a variety of business practices including plans relating to compensation for the next year. For the first time, PayScale also surveyed organizations on their policies relating to the use of social media including Facebook, Twitter, LinkedIn and BranchOut at work and for work.
"Consistent with some of PayScale's other data reports, including the quarterly PayScale Index, the results of the 2012 Compensation Best Practices Report show a general upswing in the job economy," said Katie Bardaro, Lead Economist at PayScale.
Highlights from the report:

The bleeding is slowing. In 2009, 41 percent of survey respondents said they had gotten smaller. In 2011 only 14 percent replied that they had shrunk.
Employees are feeling some power. In 2011, for the first time in three years, employers stated that the top reason for people leaving their jobs was to seek higher pay elsewhere. In 2010, the top reason was "personal reasons" including changes to marital status, health, school, etc.
Employers are beginning to worry about retention. The majority of employers felt employee retention was their top concern in 2011.
LinkedIn is tops for recruiting. Employers vary widely in their implementation of policies on social media use. Fewer than one-third promote the use of social media for business. Some industries though – notably information, media and telecommunications--are taking advantage of social media to help build their brand and promote their business. LinkedIn is achieving wide acceptance as an important tool for recruiting.
PayScale's full 2012 Compensation Best Practices Report is available at http://www.payscale.com/hr/compensation-practices-survey.
An infographic with report highlights is available at http://www.payscale.com/hr/2012-compensation-practices-infographic.
About PayScale.com
Creator of the largest database of individual compensation profiles in the world, PayScale, Inc. provides an immediate and precise snapshot of current market salaries to employees and employers through its online tools and software. PayScale's unique real-time profiling technology and MarketMatchTM algorithm let employers and job seekers determine the most precise compensation range for a particular job title or individual. Publisher of the quarterly PayScale IndexTM, PayScale's subscription software products for employers include PayScale MarketRateTM and PayScale InsightTM. Among PayScale's 2,200 corporate customers are organizations small and large across industries including Zappos, Volunteers of America and Manpower. For more information, visit http://www.PayScale.com.
# # #