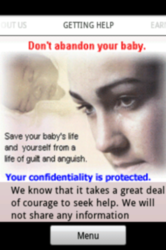 Call, everyone will be helped!
Miami, Florida (PRWEB) February 29, 2012
A new mobile phone application introduced by Safe Haven for Newborns will help save the lives of infants at risk for abandonment by helping raise awareness about resources available to pregnant girls and women in crisis.
The Safe Haven for Newborns app enables members of the public to learn more about how to place a newborn infant in a safe haven facility instead of abandoning a child in an unsafe place. The Safe Haven for Newborns app is available for download free for Android smart phones and will be available for the iPhone soon.
"There is an escalating crisis in our communities. Young women are keeping their pregnancy secret, then disposing of their newborns in dumpsters, garbage cans, fields and other hazardous places resulting in an almost certain death for the infant," said founder of Safe Haven for Newborns, Nick Silverio. "Our not-for-profit organization was established to eliminate these tragedies through education, prevention and community involvement. Technology like the mobile phone app can help us reach the young women who are most at risk for infant abandonment, typically those between the ages of 14 and 25."
App users who download the Safe Haven for Newborns App will immediately find information about how to get help for a pregnant girl/woman in need. It provides the 24 hour Safe Haven for Newborns helpline 1-877-767-BABY (2229) and a "Save the Butterflies" word guessing game to encourage support for A Safe Haven for Newborns through donations.
"This app is an example of how we're making it easy and engaging for young women to find information about A Safe Haven for Newborns and to know about alternatives available if they are in a crisis pregnancy," Silverio said.
Another element of the app aimed at building awareness with young people is an area that gives students an opportunity to earn community service hours. Students are encouraged to create a video talking about the value of Safe Haven for Newborns and obtain school credit for doing so.
Shelley Graham, a student at Seminole State College recently volunteered to produce a video for Safe Haven to earn community service hours. Graham says the new Safe Haven for Newborns mobile app is a very effective way to reach women her age who are pregnant and feel they are in crisis.
"As a student myself I know how much I rely on information I receive on my phone through apps, YouTube and on-line. So, this is a great tool to help get the word out that if someone is pregnant and doesn't know what to do, she doesn't have to abandon her baby. Safe haven for unwanted infants is a just phone call away." Graham said.
Safe Haven laws have been enacted to create a safety net for both the mother and the newborn infant. Instead of abandoning a newborn to an almost certain death, these laws allow mothers, fathers or whomever is in possession of an unharmed newborn to leave them at Safe Havens with no questions asked, totally anonymous, free from fear of prosecution
About A Safe Haven for Newborns
A Safe Haven for Newborns and the Gloria M. Silverio Foundation, is a 501(c)(3) nonprofit organization dedicated to providing one to one help for moms in crisis to eliminate infant abandonment through education, prevention and community involvement, a statewide, multi-lingual 24/7 helpline 1-877-767-BABY (2229) and a publicly available website http://www.asafehavenfornewborns.com. A Safe Haven for Newborns maintains partner relationships with hospitals, staffed fire or emergency medical stations and other state agencies to provide safe haven support and facilities where mothers in crisis can safely place their newborn infants.
To download the app (for android phones): Please checkout our app and let us know what you think. It includes a butterfly word game, as well as, "Safe Haven" Awareness information.
Click on the link https://market.android.com/details?id=safehaven.savethebutterflies
Public awareness is saving lives. 169 precious little ones now have a future.
###