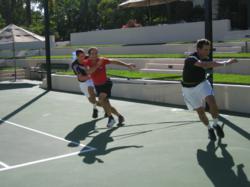 It's a new game now. You need a new way to train.
Denver, CO (PRWEB) February 29, 2012
Train like the pros and your game will dramatically improve. That's the promise from HalfHourPower.com – a new innovative resistance training program for game fitness, designed by trainer and fitness expert Howard Waldstreicher, to give a competitive fitness edge to recreational athletes.
Aimed at recreational athletes and anyone who wants to get game fit, the HalfHourPower.com training program is a convenient, yet powerful,fitness program aimed at developing a more explosive first step, quicker recovery and increased endurance. The HalfHourPower 30 minute workout dvd combines uniquely designed industrial rubber "Power Bands" with specially designed performance routines to deliver core strength, power and endurance to compete in your game. The HalfHourPower workouts can be used at home, at the park or even at the beach while on vacation.
"Basketball, tennis, soccer, football – it doesn't matter. It's a new game now. You need a new way to train," says Waldstreicher. "Ground based sports are played on our feet and therefore requires our upper and lower extremities to work together in an integrated fashion. To really work your core for sports, train from a standing position and challenge your upper and lower body by making both moves simultaneously. HalfHourPower.com satisfies both of those requirements." Improved footwork, core strength and endurance are among the many benefits athletes have seen since working with HalfHourPower.com.
HalfHourPower is currently available in DVD format with multiple performance routines. The home workout package can be purchased with two 41" Power Bands, a door anchor and DVD for a retail price of $64.95. A demo of the program can be viewed at http://www.halfhourpower.com.
For more information on HalfHourPower, or to purchase the HalfHourPower training program, visit their website at http://www.halfhourpower.com
###