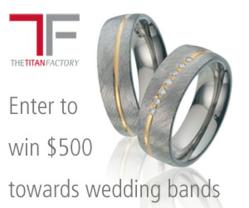 We can't wait to see what people write about and how they express their love for their significant other
Las Vegas, NV (PRWEB) February 29, 2012
The TitanFactory, makers of 100% pure titanium jewelry and accessories is currently hosting a new Facebook contest on their quickly growing Facebook fan page. In order to enter, participants must go to the TitanFactory Facebook page, and submit in 100 words or less, why they love their significant other. One winner will be chosen from all the entries to receive $500 towards a pair of wedding bands from the TitanFactory website.
The contest gives participants a chance to reveal their feelings for their true love and also win the wedding bands of their dreams or $500 towards the purchase of their dream titanium wedding bands at TheTitanFactory.com.
The TitanFactory offers a sophisticated brand of advanced titanium jewelry like no other. Wedding rings and partnership bands are offered plain, polished, with gold, rose gold, or diamonds. They even have blue and black colored diamonds in their collection.
"We can't wait to see what people write about and how they express their love for their significant other," says TitanFactory representitive, Nadine Kluger. The contest entries may be placed by March 31st and then the judging will begin. The TitanFactory company representatives will read each entry, narrow down the entries, and vote on a winner. The winner will then receive a coupon good for $500 off any two rings from the TitanFactory website. Entrants do not need to be single to enter. "Married people who would like to re-kindle their flame or buy themselves new rings are welcome as well," says Ms. Kluger.
To become a fan of The TitanFactory's Facebook page and learn more about their current contests, promotions, exclusive offers and products, please "like" them today at https://www.facebook.com/pages/The-Titan-Factory/150581518334983?sk=app_190322544333196.
About The TitanFactory:
The TitanFactory advanced titanium jewelry is like no other. The finish is superior and the look is clean and attractive. They introduce titanium to 18kt. Yellow and Red Gold, and also mix in Silver and Platinum to their fine jewelry. The results are fascinating. The TitanFactory line is made in Germany and is hypoallergenic and absolutely friendly to the skin.
Media Contact:
Nadine Kluger
800-360-2586
Nadine(at)teno(dot)com
http://www.thetitanfactory.com
###