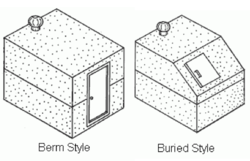 precast forms can be created to produce unlimited concrete storm shelters
Duluth, MN (PRWEB) February 29, 2012
Gizmoplans has done it again. With the introduction of the precast storm shelter, people now have a DIY option for creating a safe shelter during tornado season. Businesses and individuals alike can use these concrete storm shelter steel form plans to produce concrete tornado shelters that will withstand an F4 Tornado.
Natural disasters seem to have had their way with the world over the last few decades. With all of the uncertainty that Mother Nature brings, Gizmoplans has introduced one bright spot of safety for those that live in tornado stricken areas. Recently, Gizmoplans has released detailed plans on how to create precast storm shelter forms. These plans are for a steel form that can ultimately produce a finished concrete storm shelter. These plans can be used by resourceful individuals, entrepreneurs looking to help save lives, and precast concrete businesses looking to expand their product lines.
Once downloaded, these plans can be used to fabricate either a Berm or Buried style precast concrete steel form. Both of these precast storm shelter forms will produce two concrete halves. The bottom half is the same design for both precast forms, while the top half is unique to that style. These plans conform to standard metal fabrication industry working standards and the steel construction of the precast form makes it virtually indestructible. These precast forms can be created to produce unlimited concrete storm shelters for mass production.
Some of the specifications of this precast form include:

1/4" Steel Reinforced Construction*
Pours Upright - No Turning
Tapered Inner Cores
Air Release* Electric Vibrators
Pouring Tray
All Handling Devices
Swing Out Walls
Quick Clamp Design
These tornado storm shelter plans can provide a viable and expertly engineered solution for tornado safety. They can be used to produce a concrete structure that can withstand high winds, including that of an F4 tornado. Not only that, these completed concrete shelters can double as a root cellar away from tornado season. The plans allow for entrepreneurs and businesses to build these storm forms themselves, but they can also be easily outsourced to a local fabricating outlet. For more information on these custom plans, visit the Gizmoplans website.
About Gizmoplans
Gizmoplans is an online informational website that provides businesses and individuals with downloadable DIY solutions. These plans can be used to build projects for recreation, hobbies, recycling, industry, woodcrafts, metal fabrication, alternative energy and much more. Gizmoplans is also a hub for businesses and individuals to upload and sell their own plans, patterns, how-to ebooks and more. This online marketplace can benefit both the purchaser and the seller in the DIY community. To get more information on DIY plans and DIY projects, visit Gizmoplan's website at http://gizmoplans.com/.
###