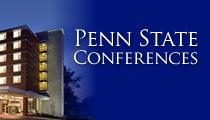 It's important for military couples to show patience and compassion for one another as they readjust to their life together.
University Park, PA (PRWEB) February 29, 2012
Military couples are often unprepared for the stressors that can arise when a loved one returns from overseas service.
"Preparing for the Ups and Downs in Romantic Relationships during Reintegration" is one of the student veteran topics that will be discussed at Penn State's 2012 Student Veterans of America Conference from 9 a.m. to 4:20 p.m. on Saturday, April 14, at the HUB-Robeson Center on the University Park campus.
Jennifer Theiss, a conference speaker and assistant professor at Rutgers University, said the key to a successful reunion between a service member and their significant other is not keeping bad news a secret while the loved one is away.
"Withholding negative information during the deployment process can be detrimental to the relationship in the long run," Theiss said. "The key is to share information that will allow partners to remain intimately involved in one another's lives, but to remain positive in the face of hardship."
She also explained that it's essential for military couples to clarify their expectations of life under the same roof again.
"There may be some missteps at first, and partners may interfere in one another's routines," Theiss said. "It's important for partners to show patience and compassion for one another as they readjust to their life together."
The conference will offer a variety of speakers and sessions to support returning military personnel, including career planning, résumé writing, job networking, psychological support services and disability recreation programs.
The keynote speaker at this year's conference is U.S. Army Brig. Gen. Michael G. Gould. Gould is an assistant deputy general in the U.S. Department of Veterans Affairs and supervises assistance programs for 1 million veterans and their loved ones.
This conference is hosted by the Penn State Veterans Organization and is sponsored in part by Penn State World Campus.
Information about the conference is available at http://www.outreach.psu.edu/programs/student-veterans/index.html online.
Penn State Conferences plans and manages more than 300 programs each year, with enrollments of nearly 45,000. Conferences is part of Penn State Outreach, the largest unified outreach organization in American higher education. Penn State Outreach serves more than 5 million people each year, delivering more than 2,000 programs to people in all 67 Pennsylvania counties, all 50 states and 115 countries worldwide.
###