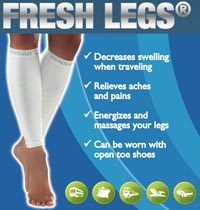 How much do we love Zensah Leg Sleeves? Let us count the ways: travel by air, train or car; sight-seeing, walking, hiking, biking or simply standing. And, the array of color choices is almost as therapeutic
Miami, FL (PRWEB) February 29, 2012
Zensah®, a Miami based Compression Apparel Company, offers travelers a fun and exciting alternative to traditional compression socks. The Fresh Legs® Travel Leg Sleeves offer the same benefits of traditional travel compression socks, but are footless, allowing them to be worn with open toe shoes and sandals.
Inactivity during travel, combined with the effect of gravity, is often the cause of pain in the legs during long overhaul trips. An increased liquid accumulation in the legs and the slowing of blood circulation creates a feeling of discomfort and heaviness in the leg. Travelers often also experience swelling in their lower legs.
The Zensah® Fresh Legs socks and sleeves make use of graduated compression – meaning the greatest amount of compression is found in the bottom part of the garment and the least amount of compression is in the top portion. As a result, a pressure gradient is created. This allows for Zensah® Fresh Legs socks and sleeves to improve circulation and enhance blood flow, resulting in a much more comfortable traveling experience.
Travel stores are often the last stop for travelers to shop before their trip. This provides a great opportunity for stores to help customers and to get them into compression socks or leg sleeves. Customers often have the pre-notion that these products can only be black, beige or white and are only for the older crowed. While elder customers are at higher risk, younger people can be just as affected.
Zensah® Compression Apparel provides a great option to spice up the industry with colorful options for compression wear. The leg sleeves are available in over 15 colors among them purple, neon pink, yellow, green and two tie-dye options. The sleeves provide extra support for the shin and calf area and are produced in the US. They have the advantage and capability to be worn with open toe shoes such as sandals.
Susan Taylor from The Traveler, Inc. comments: "How much do we love Zensah Leg Sleeves? Let us count the ways: travel by air, train or car; sight-seeing, walking, hiking, biking or simply standing. And, the array of color choices is almost as therapeutic!"
For customer looking for a traditional sock, Zensah® also offers Fresh Legs® Travel Compression Socks in over 4 colors. Besides black, beige, and white, the compression socks are also available in pink. The socks provide extra arch support and are made in Italy. Zensah products are constructed seamless and uses an anti-microbial fabric which is ultra-breathable and moisture wicking.
About Zensah® : Founded in 2004, Zensah® is a leading travel compression apparel brand. According to research done by Leisure Trends Group Colorado, Zensah® was one of the top selling compression brands in 2011.
Offering compression products for travel and wellness, Zensah® provides the optimal compression level for comfort and function and continues to be a primary choice for travelers. The company's Sales and Marketing office is based in Miami, Florida. For further information please contact Manuela at 305-935-4619 or email Manuela(at)zensah(dot)com. Please visit, http://www.getfreshlegs.com
###