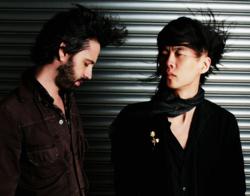 Los Angeles, CA (PRWEB) February 29, 2012
Indie record label Krian Music Group and their exclusive digital distributor, BFM Digital will be joined by media sponsor M Music & Musicians Magazine for their first official SXSW showcase this year, bringing an exhilarating must see lineup to the Iron Bear on Thursday, March 15. Dance rockers VHS Or Beta, Nashville's retro-rockers The Ettes, Los Angeles indie outfit Hands, Brooklyn quirk-pop band Suckers, Spanish garage punks Capsula, and Ohio's The Strange Familiar are all scheduled to perform.
1:00am - VHS or Beta "Breaking Bones" (single)
The Brooklyn based dance-rock band, VHS OR BETA, released their fourth album, Diamonds and Death, in the fall of '11. From the backroom disco of their favorite Bushwick watering hole, to DFA Records' Plantain Studio in the West Village, new surroundings exerted a powerful influence on the predominantly electronic grooves of their first full-length since 2007's Bring on the Comets.
vhsorbeta.com
12:00am -The Ettes "Teeth" single
THE ETTES return with Wicked Will, the fourth record from the rowdy and relentless Nashville, TN garage rock trio of Coco Hames (vocals, guitar), Jem Cohen (bass) and Poni Silver (drums). Wicked Will encompasses everything you've come to expect from The Ettes and more - up-front, fearless vocals, fuzz bass runs, primal, driving drumsbeats, searing guitar lines and of course, tons of black eyeliner and attitude. Female attitude.
theettes.com/
11:00pm - Suckers http://www.suckersmusic.com
SUCKERS are on a mission to break musical barriers and cultivate something new while maintaining a classic pop accessibility. Suckers merged as the sound and aesthetic of three one-man bands playing together. The band hit their stride, packing Brooklyn venues and sharing bills with friends and kindred spirits in Yeasayer, MGMT, Dragons Of Zynth, Chairlift, Kyp Malone and Awesome Color, among others. Suckers' lush tapestry of joyous pop, style and imagination on their self-titled debut EP (produced by Yeasayer's Anand Wilder) -and its hit single, "It Gets Your Body Movin'"-launched them to global acclaim.
10:00pm - Hands "Warm Night Home" single
Each of HANDS four members has distinct strengths and disciplines that coalesce into a truly unique sound worthy of their recent praise. With technical authority, a profound sense of tempo, solid complementary bass thumps and the occasional auxiliary drums, Hands' interplay of esoteric guitar riffs and soaring tenor vocals is further expanded upon by the various sampling and looping techniques crafting a blissfully fresh sound.
Scoring a slew of opening spots for the likes of Deerhoof, DeVotchKa, Foster the People and more, Hands is bracing for a big 2012, including a much-anticipated EP this spring. handssounds.com/
9:00pm - Capsula "Hit 'n' Miss" single and video
The second full-length release from Spanish rockers CAPSULA, In The Land of Silver Souls, is a striking combination of garage rock toughness and modern style. The band, originally from Argentina, was affected creatively by the Argentinian dictatorship's censoring of music. In a place where subversive lyrical and music expression was a necessity, Capsula found their sound: the unbound emotion of dirty rock.
Witnessing Capsula live is an experience not easily forgotten, as they tear though blistering washes of guitar and pounding rhythms delivered with the true essence of punk rock attitude. capsula.us
8:00pm- The Strange Familiar "Being Me" single and video
Indie pop outfit THE STRANGE FAMILIAR, have performed for millions on network television, had hit records recorded by major artists and are now set to release their debut album, Chasing Shadows, on March 27, 2012.
Chasing Shadows is filed with smoky acoustic grooves, jubilant choruses, big hooks and smart lyrics… all of which show off Kira Leyden's soulful upper register. But underneath the deftly orchestrated tunes is a story of struggle and searching to find happiness in the midst of false dreams. thestrangefamiliar.com/
About Krian Music Group
Krian Music Group is a full service independent record label group based in New York City. The label mission is to fully support, develop, protect and collect on behalf of our artists. Across a diverse genre of music, we work to further our artists' long term careers by finding new and exciting opportunities for their commercial success across multiple platforms with the ability to provide a solid foundation for that growth. http://www.krianmusicgroup.com/
About BFM Digital, Inc.
BFM Digital is a global digital music company committed to serving the independent music community and delivering quality music, spoken word and video content to leading online retailers worldwide. Representing a diverse catalog of indielabels, artists and publishers, BFM distributes to all of the major music services including iTunes, Amazon, Spotify, Youtube, Google Music, Beatport, Rhapsody, Zune, eMusic, and many more. With an unparalleled commitment to personalized service, BFMworks closely with their content providers from around the world to ensure maximum exposure of their catalog by customizing marketing efforts and building strong relationships with BFM's digital store partner. http://www.bfmdigital.com
About M Music & Musicians Magazine
M Music & Musicians delivers entertaining, informative and exclusive artist-driven features that offer valuable insight into the creative process. Timely news and engaging music reviews penned by the nation's top music journalists are all wrapped up in a visually bold and stylish package bursting with dazzling photographs.
http://mmusicmag.com/m/
# # #