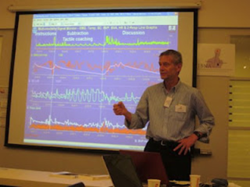 The BFE-LFB program provides continuing education via conferences, seminars, workshops, internet courses, and software for professionals around the world.
(PRWEB) February 29, 2012
For practitioners who have the urge to deepen their understanding of biofeedback or have set their sights on the next rung on the career ladder, this innovative 5-day workshop is an ideal way to learn biofeedback fundamentals and start to apply new skills in cutting-edge applications. Participants learn through powerful demonstrations of biofeedback and adjunctive procedures, imaginative hands-on lab exercises, professional multimedia presentations and comprehensive review materials. This program integrates personal hands-on training with equipment and didactic presentation. Multi-channel computerized equipment is readily available for participants to practice throughout the workshop. Popular amongst professionals is the Infiniti system manufactured by Montreal based Thought Technology Ltd. The equipment is made available to BRI through Thought Technology's generous educational loans and the BFE Learn From the Best Program. The workshops are organized by Biofeedback Resources International (BRI) and will take place in Hawthorne, NY March 24-28, and June 2-6, 2012. (Hawthorne is 40 minutes north of New York City. ) The June workshop will be instructed by Dr. Erik Peper, who shares his years of experience and wealth of knowledge with the participants.
BCIA Certification Workshop Dates
(Workshops meet the 48 hour didactic requirement for BCIA certification.)
March 24-28, 2012 – Hawthorne, NY
June 2-6, 2012 – Hawthorne, NY
To register, visit http://www.biofeedbackinternational.com.
In January, Dr. Erik Peper traveled to Israel to present a series of workshops organized by the Israeli Biofeedback-Neurofeedback Association (IBNA). Yuval Oded, a member of the IBNA commented, "Erik is a real master in integrative approaches to healing, his workshops here not only greatly expanded our knowledge in biofeedback but also affected many of us in our general attitude towards therapy by emphasizing the role emotional memories and patterns, and interactions of body, mind, social and physical environment for achieving long term results in optimizing performance and health".
About Dr. Erik Peper
Erik Peper, Ph.D. is an international authority on biofeedback and self-regulation. He is Professor at the Institute for Holistic Healing Studies / Department of Health Education at San Francisco State University. He is President of the BFE and past President of the AAPB. He holds Senior Fellow (biofeedback) certification from the BCIA and is the author of numerous scientific articles and books. Dr. Peper shares his ideas on illness, health and well-being on his blog, The Peper Perspective.
Biofeedback Basics Software and Biofeedback Mastery
The BFE offers a software suite called Biofeedback Basics that was designed to be a companion to the Biofeedback Mastery book by Erik Peper, Ph.D. (published by the Association of Applied Psychophysiology and Biofeedback). Together, the book and the suite teach basic skills derived from more than thirty years of biofeedback training and teaching experience. The software display screens help you make sense of the data; monitor and display biological signals of interest; discover the underlying physiology of each signal; accurately record the signal; recognize the basics of self-regulation; use techniques for connecting and attaching sensors; and discriminate real feedback signals from artifacts. In the software Dr. Peper generously shares his clinical wisdom teaching many practical techniques for increasing self awareness, fostering control and self mastery skills, taking charge and actively participating in ones own healing process.
Biofeedback Certification International Alliance
In a recent issue of Psychophysiology Today, Dr. Fred Shaffer and Dr. Don Moss announced, "The BCIA is working hard to promote international certification. In 2010, we changed our name to the Biofeedback Certification International Alliance (BCIA) to emphasize our international mission, created an international task force and added an international section to our website." Anyone in the US or abroad wishing to learn more about BCIA Certification can visit their website at http://www.bcia.org.
About the BFE
The BFE-LFB program provides continuing education via conferences, seminars, workshops, internet courses, and software for professionals around the world. Content is developed independently by International Research & Education Project teams. Financial support comes from the Biofeedback Federation CIC, a non-profit Community Interest Corporation located in the UK. For more information, visit the BFE Online Shop. The next BFE Annual Conference, their sixteenth, is scheduled to take place September 11-15, 2012 in Rzeszów, Poland.
Contact:
Carol Meyers
BFE Education Manager
education(at)bfe(dot)org
http://www.bfe.org
# # #