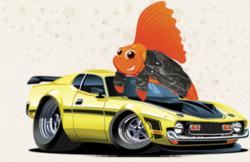 At least they age slower than the rest of us!
New York, NY (PRWEB) February 29, 2012
RoadFish.com men's lifestyle and finance magazine today wishes all leapers—that is, someone born on February 29th—a very happy birthday, and brings attention to the difficulties that can arise when born on a day that only comes around once every four years. For example, many software programs that are responsible for controlling everyday facets of life such as banking and life insurance do not recognize February 29th as a legitimate date.
Barbara Goldberg of Reuters reports that some plights of leapers as a result of having an irregular birthday include computer services and software programs that don't recognize February 29th as an actual birthday. For instance, Peter Brouwer, the co-creator of The Honor Society for Leap Year Day Babies, stated he was informed by Crown Life Insurance Co. that the company's computer system would not accept the date of his February 29th birthday. The insurance company told him they would need to use March 1st instead. Likewise, Google's Blogger program currently does not allow existing users with a February 29 birthday update their profiles.
The Honor Society for Leap Year Day Babies co-creator Raenell Dawn stated that one out of every 1,461 people born will be born on a Leap Day. She also quotes that there are over 200,000 leapers in the US and nearly 5 million around the world. Together, Dawn and Brouwer work to lobby calendar companies to mark February 29th as a notable day, and have convinced Facebook to allow February 29th to be listed as a birth date for users whereas before there was a block on this date if someone attempted to add it to their profile.
RoadFish.com's editor is quoted as saying, "At least they age slower than the rest of us! I wish I was born on leap year, then I would only be 12 years old at this point."
The above-mentioned article includes a Leap Year explanation from Geoff Chester, United States Naval Observatory spokesman. Chester explained that leap years occur once every four years with the exception of years that end in double zeroes (for example, 1900 and 2100.) However, years that end in doubles zeroes and can evenly be divided by 400 (for example, 1600 and 2000,) are still considered leap years and contain 29 days in February.
RoadFish.com feels for folks who only have birthdays once every four years, and stated that "they should get some extra love today to make up for the next three years that they have to live with celebrating on a substitute day!"
Certain anomalies surrounding leap year babies include celebrating one's Sweet 16 birthday party when they are 64-years-old, and 80-year-olds only having gotten 20 actual birthdays. Mary Ann Brown, founder of the Worldwide Leap Year Festival which is held every four years, was born February 29th, 1932. Brown stated, "It's my 20th birthday this year, but I'm going to be 80 years old."
About Roadfish
RoadFish.com is an online men's lifestyle and finance magazine targeted toward men in their 30s and 40s that have already attained a moderate level of success in life, and are striving toward more. It goes over current events of interest to this group, such things as exciting adventures, consumer interests, celebrities, and dating tips, as well as ways to make more and save more money. It is a publication owned by Purpose Inc.
###