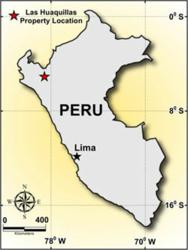 Vancouver, BC (PRWEB) February 29, 2012
(Financial Press) - Inca One Resource Corp (TSX-V:IO) is an early-stage resource exploration company intending to pick up where other companies left off in the past in Peru.
Inca One's primary focus has been its Las Huaquillas Gold-Copper project in Peru. And judging by recent developments, the company is poised to aggressively advance its gold-copper project in one of the most prolific mining regions in the world.
See property location: http://www.incaone.com/projects/las_huaquillas/property_location/
Past exploration activity has shown significant potential even though only a small fraction of the project has been drilled.
For example, the Los Socavones zone has been the most actively explored portion of the project. The exploration on the Los Socavones was completed by the Cooperation Minero Peruano - Alemana between 1988 and 1992 and Sulliden Gold Corporation Ltd. from 1996 to 1999.
Those previous exploration efforts included many of the most intense early stage exploration methods. They include surface geological work, geochemical collection and analysis, and geophysical studies. In addition to that there were 26 drill holes completed on the zone and an additional 1200 meters of underground workings.
By 1998, Sulliden had sufficient geological reconnaissance data to form an opinion on the project. At the time Sulliden estimated a 500 meter section of the Los Socavones Zone hosted an estimated geological resource of 6.57 million tonnes grading 2.09 g/t Au and 25.2 g/t Ag. That's the equivalent of 443,000 ounces of gold and 5.3 million ounces of silver.
*Note: All estimates are based on historical exploration results and are NOT compliant with N.I. 43-101 standards.
The Los Socavanes Zone, however, could be much longer than the 500 meters used to form that estimate. The potential strike length is estimated to stretch as long as 2.2 kilometers.
On top of that, the historical resource estimate assumed a cut-off grade of 1.5 g/t gold and it also remains open at both depth and along strike. That means the resource base is based on economics of gold when it was much lower prices. It also means the historic drill holes intercepted gold and copper at a depth of about 200 meters and then the drilling was stopped.
Again, all of that is in just the Los Socavanes Zone. The image below shows, there are multiple geological anomalies and zones on Inca One's entire property:
see project and regional geology image: http://www.incaone.com/projects/las_huaquillas/project_geology/
The image also shows where the drilling used to form the historical resource estimate was completed. The holes occurred along an altered feldspar porphyry which covers just a small fraction of the property.
The other zones showed significant geological anomalies:
San Antonio – Induced Polarization (IP) anomaly and soil geochemical collection and study returned greater than 200 ppm copper
Cementerio – IP anomaly, soil geochemical collection and study returned greater than 11 ppb gold and great than 200 ppm copper
El Huabo – on trend with Los Scovanes zone with similar IP and geochemical anomalies
These numerous anomalies which have never been extensively explored with drilling and other advanced exploration technigques show Inca One's Las Huaquillas Gold-Copper projects may host much more gold and copper than originally expected.
Finally, projects are in Peru come with that come a lot of special situations. The greatest of which is the government requirements before drilling permits will be issued.
Inca One has demonstrated its focus on completing all of these tasks.
For example, Inca One has already completed its Social Baseline study of the region surrounding the Las Haquillas project. The study involves months researching the local economy, taking surveys of locals, and other measurements to establish a baseline to which the company can refer in the future to demonstrate its positive economic impact on the local area.
Inca One has also already initiated its Sustainability Program. This program is required to be initiated before social and drilling permits will be issued. It incorporates the efforts of numerous local organizations, the government, and the Inca One to directly increase the prosperity and economic productivity of the local region surrounding the Las Haquillas project.
Inca One is highly focused on leaping these regulatory hurdles in a timely manner at this stage in its development.
The next move for Inca One is to complete all these requirements, get social and drilling permits issued, and then ramp up its exploration efforts on the Las Haquillas project.
Learn more about Inca One's development timeline at http://www.incaone.com.
Written by Financial Press Staff
Legal Disclaimer/Disclosure: A fee has been paid for the production and distribution of this Report. This document is not and should not be construed as an offer to sell or the solicitation of an offer to purchase or subscribe for any investment. No information in this article should be construed as individualized investment advice. A licensed financial advisor should be consulted prior to making any investment decision. Financial Press makes no guarantee, representation or warranty and accepts no responsibility or liability as to its accuracy or completeness. Expressions of opinion are those of the author's only and are subject to change without notice. Financial Press assumes no warranty, liability or guarantee for the current relevance, correctness or completeness of any information provided within this article and will not be held liable for the consequence of reliance upon any opinion or statement contained herein or any omission. Furthermore, we assume no liability for any direct or indirect loss or damage or, in particular, for lost profit, which you may incur as a result of the use and existence of the information, provided within this article.
# # #