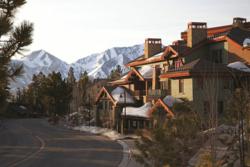 "Matt's dedication to service, creativity and quality perfectly align with Auberge Resorts, and his talent and engaging personality continue to receive praise from our owners and the local community." said Mark Harmon, CEO, Auberge Resorts.
Mammoth Lakes, CA (PRWEB) February 29, 2012
Auberge Resorts is pleased to announce the opening of Toomey's Carry-Out, a new outpost from local celebrity chef Matt Toomey, at The Auberge Residences at Mammoth. Auberge Residences owners, guests, and locals are now able to enjoy Chef Toomey's relaxed gourmet cuisine year-round for breakfast lunch and dinner daily. Located in the heart of Mammoth Village, Toomey's also offers a catering option for those who wish to come home to a delicious, home-cooked meal after a long day navigating the slopes.
From 2006 until the recent opening of Toomey's Carry-Out, Toomey famously delighted Mammoth regulars with his gourmet food served in out-of-the-box settings, such as his original Whoa Nellie Deli, a seasonal pop-up restaurant attached to a gas station that grew into a local landmark. His patrons quickly became loyal followers and friends who returned time and time again for signature dishes including Coconut Mascarpone Pancakes, Lobster Taquitos, and Toomey's own favorite: the Green Monster Smoothie. Toomey has closed the Whoa Nellie Deli to focus his attention full time at Toomey's Carry-Out.
"Matt is a perfect complement to the Auberge Residences at Mammoth, and we are thrilled to have him with us at our newest location," said Mark Harmon, CEO, Auberge Resorts. "Matt's dedication to service, creativity and quality perfectly align with Auberge Resorts, and his talent and engaging personality continue to receive praise from our owners and the local community. We're excited to offer this exclusive dining option as one of the many benefits of Auberge Residences ownership." For information http://www.toomeyscatering.com or 760-924-4408, http://www.facebook.com/ToomeysCatering
About Auberge Resorts
Auberge Resorts is a collection of exceptional hotels, resorts and private clubs, each with a unique personality that assures a memorable guest experience. While Auberge Resorts nurtures the individuality of each establishment, all are characterized by a set of communal
elements: intimate, understated elegance; captivating locations that inspire exceptional cuisine and spa experiences; and gracious yet unobtrusive service. Among the Auberge Collection of distinctive properties are: Auberge du Soleil, Napa Valley, Calif.; Calistoga Ranch, Napa Valley, Calif.; Solage Calistoga, Napa Valley, Calif; Encantado, Santa Fe, New Mexico; Esperanza, Cabo San Lucas, Mexico; The Inn at Palmetto Bluff, Bluffton, S.C.; Hotel Jerome, Aspen, Colo; Auberge Residences at Element 52, Telluride, Colo.; and Auberge Residences at Mammoth, Mammoth Lakes, Calif., with several others currently in development. For more information about Auberge Resorts, please visit http://www.aubergeresorts.com
###