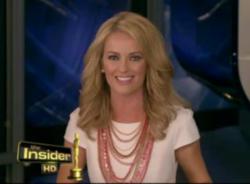 Seattle, WA (PRWEB) February 29, 2012
Chloe + Isabel, an innovative new jewelry line founded by Chantel Waterbury was featured in this years' Oscar celebrity GBK gift bags and also seen on Brooke Anderson ,hostess from the Insider TV show, on the February 27th show following Oscar night. Chloe and Isabel designs its line of fashion jewelry to appeal to every woman — whether they seek the timeless elegance of a classic piece, or the bold statement of the latest style and celebrities are finding their jewelry worthy of the red carpet. Staci Paris, Sales Development Manager was at the GBK Oscar's gifting suite and comments, "It was incredible to see the amazing reception of our jewelry line by women and men alike. We even had several celebrity men get pieces for their wives and daughters."
Recently featured in Business Insider as one of the "Coolest new businesses in New York for 2011", this jewelry startup is making strides in the highly competitive jewelry industry and setting new trends in the direct sales business. For under $200 women can start their own business with a great jewelry sample kit, personalized e-boutique and complete training. Anne Hess, merchandiser for Chloe and Isabel comments, "What an incredibly exciting time to be a part of the Chloe + Isabel business. Having our jewelry worn by celebrities as well as featured in fashion magazines such as Lucky, Glamour and Vogue gives entrepreneurial women the confidence that they are choosing a business with incredible potential."
The Chloe + Isabel business is built upon the direct sales model using home parties and online boutiques to sell their jewelry. Women can work part or full-time and build their business to fit their own personal lifestyle and goals. Their tech-savvy e-boutiques feature social media links to help promote their business using Facebook, Twitter and Pinterest.
With the business barely a year old, the potential for new merchandisers is untapped. Ms. Hess adds "The Chloe and Isabel business is the best I've seen. To be involved in a ground floor opportunity and having the endorsement of celebrities and the fashion world is amazing. I am looking for motivated women to join my team to build this business together."
Anne Hess is a merchandiser with Chloe + Isabel. She has a background in sales, marketing and advertising for over 20 years. She is committed to assisting women achieve their financial and personal goals through becoming mini-entrepreneurs.
###