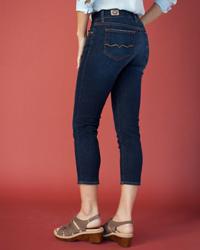 Santa Barbara, CA (PRWEB) February 29, 2012
Multi-channel clothing retailer, Territory Ahead now proudly offers a collection of Red Engine Jeans, including the supremely comfortable, spring-weight Viper Capri Jeans, Cinder Skinny Jeans, and Garnet Bootcut Jeans – all crafted of buttery soft, Italian sateen denim. The Territory Ahead customer values distinctive character, lasting quality, and appreciates having a selection of silhouettes suitable to different body types and occasions, so Red Engine is the perfect pick for rounding out Territory Ahead's denim offerings.
About Red Engine Jeans
Red Engine has achieved cult status among denim connoisseurs who demand the very best, inside and out, from their jeans. Their denim line is based on the consistent quality, feel, and "cool" of vintage denim, and it's continually freshened with updated styles and fits. Each pair of Red Engines is detailed and finished entirely by hand.
About Territory Ahead
Territory Ahead began its journey in 1988 as a new kind of apparel company, offering personality through special fabrics; fine details; and easy, wearable clothing designed from the threads up. Focusing on lifestyle rather than fashion trends, the company offers a collection of men's and women's clothing and accessory items each season through its nationally distributed catalog; website; and retail stores.
###