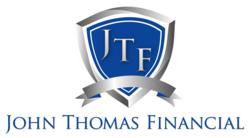 New York, NY (PRWEB) February 29, 2012
John Thomas Financial, a full service independent broker/dealer and investment-banking firm located in New York City's Financial District, today announced the release of its 2012 Economic Outlook, a research report compiled by Chief Economist Mike Norman.
The 18-page report includes analyses of trends and numbers affecting the U.S. economy including several components of GDP, corporate profits, imports and exports, government consumption and expenditures, personal income, international markets, U.S. treasuries and commodities.
In January, John Thomas Financial announced that it had successfully incorporated Modern Monetary Theory (MMT) in its 2011 forecasts, producing exceptional forecasting results. The use of MMT allowed the firm to take advantage of events including the S&P downgrade of U.S. credit and European solvency. Modern Monetary Theory was largely used in forecasting for the John Thomas Financial 2012 Economic Outlook.
The following is a summary of this years' Economic Outlook taken directly from the report:
"Private demand is returning as the government cuts back. Credit growth is fueling the private sector rebound, but the scope for any sustained credit driven expansion is limited in our opinion. Fiscal contraction will continue to add drag to the economy, resulting in sub-trend growth for the remainder of the year.
"Stocks will continue to trade in a range, with the upper bound probably already in place or nearly in place. Bond yields should trend lower. Commodities and gold will see more downside as demand throttles back. The dollar will benefit from an improving trade picture and accelerating U.S. fiscal contraction."
A complimentary download of the John Thomas Financial 2012 Economic Outlook is available in its entirety on the JTF Blog.Click here to download the report.
For timely insights, news, and commentary on economics and financial markets, visit the JTF Blog or join the John Thomas Financial community on Twitter and Facebook.
About John Thomas Financial
John Thomas Financial, a member of FINRA and SIPC, is an independent broker-dealer and investment banking firm headquartered in New York City's Wall Street district. Emphasizing a client-centric approach to managing all aspects of its business, John Thomas Financial and its affiliates offer a full complement of retail brokerage, private wealth management, and corporate advisory services tailored to the unique needs of its clients. The firm publishes the Fiscal Liquidity Index, a unique daily indicator that looks at government spending and its impact on the financial markets, as well as The John Thomas Financial Economic Outlook, a research report analyzing consumer sentiment, market outlook, credit cycles and dozens of other market influences. For more information on the firm, please visit: http://www.johnthomasfinancial.com.
###