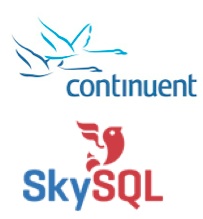 The partnership between Continuent and SkySQL brings together two of the most prominent players in the MySQL ecosystem, combining their expertise in database clustering and replication, and subscription support respectively, said Matt Aslett of 451 Group
San Jose, CA (PRWEB) February 29, 2012
Continuent, Inc., a leading provider of replication and clustering solutions for open-source databases, and SkySQL Ab, the first choice in affordable solutions for the MySQL™ database in the enterprise and cloud, announced today a strategic partnership. SkySQL™ will provide its expert MySQL database software, services and support to customers of Continuent's Tungsten Enterprise, a complete clustering and data management solution for MySQL, and Tungsten Replicator, an advanced data replication solution.
Under the partnership agreement, SkySQL and Continuent will jointly offer Tungsten Enterprise and Tungsten Replicator-based solutions that will aid MySQL users in accelerating the deployment and management of clustered MySQL databases, as well as the deployment of complex data replication solutions. Continuent and SkySQL will also offer MySQL users the SkySQL Enterprise support subscription, a comprehensive offering of server software, production support and monitoring tools for any version of the MySQL database.
"The partnership between Continuent and SkySQL brings together two of the most prominent players in the MySQL ecosystem, combining their expertise in database clustering and replication, and subscription support respectively," said Matt Aslett, Research Manager, Data Management & Analytics at 451 Research. "We expect the partnership to be beneficial to existing customers of both companies, and also attract interest from the wider MySQL user community."
"We are focused on bringing the MySQL database into the future while providing expert support and services to those using the database today," said Ulf Sandberg, CEO at SkySQL. "Teaming up with Continuent to optimize the world's most popular open-source database is a great step in that direction."
"We are very excited about the opportunity to work with SkySQL, another leader in the MySQL ecosystem. High availability and scaling with automatic resource allocation provide real benefits to database applications of all sizes, and Tungsten Enterprise provides industry leading solutions for database management, continuity and data backup and recovery," said Robert Hodges, CEO at Continuent. "We closed our first joint customers in 2011 and look forward to working with SkySQL to solve important data management problems across a wide range of industries that use the MySQL database. Our collaboration is going to benefit a lot of customers."
"This strategic alliance allowed us one-stop-shopping to analyze our options, evaluate and implement an Oracle®-to-MySQL database replication solution. We were pleased to conclude that the Continuent Tungsten-based solution offered by Continuent and SkySQL met our needs and was a far more cost effective solution than Oracle's GoldenGate™ software," said Stig Petter Hansen, Database Administrator at Norwegian Broadcasting Corporation (NRK). "This is a forward thinking relationship that takes the vendor collaborative model to the next level by ensuring that MySQL users get the best of both worlds – number-one MySQL replication solutions and top ranked MySQL support services."
About SkySQL
SkySQL Ab, the company behind the SkySQL Enterprise subscription, is the first choice in affordable MySQL database solutions for the enterprise and cloud. Founded by former executives, personnel, and investors of MySQL AB, SkySQL Ab is an open source software company committed to furthering the future development of MySQL database technologies, while delivering cost-effective database solutions and exceptional customer service. SkySQL Ab's customers include ATOS Worldline, Canal+, Deutsche Telekom, ClubMed, Lotte.com, La Poste, Constant Contact and Virgin Mobile. SkySQL's worldwide headquarters is located in Helsinki, Finland. The company has operations in Asia, Europe and North America. For more information, please call (877) 303-5799, or visit http://www.skysql.com, and follow conversations at http://www.twitter.com/skysql.
About Continuent
Continuent offers industry-leading replication and clustering solutions for MySQL and PostgreSQL databases. Continuent's expert consulting helps users quickly solve difficult problems in replication and data management. Continuent's Tungsten software enables 24x7 data availability and increased database performance for data-driven applications while retaining the cost advantages of open source software. Continuent's customers include BigDoor, Constant Contact, F-Secure, Hearst Magazines UK, Marketo, Norwegian Broadcasting Corporation, Sony Music Entertainment, Topspin Media, Thomson Reuters and Zappos.com. For more information about Continuent, our products and consulting services, visit http://www.continuent.com.
Media Contacts
Jennifer Wilbur
Mission PR for SkySQL
jen(at)missionpr(dot)com
(619) 865-9045
Eero Teerikorpi
COO, Continuent
eero.teerikorpi(at)continuent(dot)com
(408) 431-3305
###
MySQL is a trademark of Oracle Corporation and/or its affiliates. Oracle is a registered trademark of Oracle Corporation and/or its affiliates. GoldenGate is a trademark of Oracle Corporation and/or its affiliates. SkySQL is a trademark of SkySQL Ab. Other names may be trademarks of their respective owners.