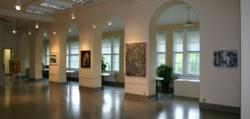 It's no longer just providing information, it's communication – in both directions.
Fergus Falls, MN (PRWEB) February 29, 2012
Ask any true art lover who has spent time in west central Minnesota, and they'll agree: this region is rich with talented artists and high-caliber arts venues. It seems there's always something happening in music, visual arts, theatre or other performance arts. But filling theatre seats on opening night or reaching first-time gallery visitors can be daunting for arts planners, and finding an event to attend on spur-of-the moment unlikely for arts enthusiasts. That's all changing, with the use of interactive tools on Lake Region Arts Council's helpful new website.
Lake Region Arts Council (LRAC) is a 501(c)3 nonprofit that provides access to quality arts opportunities and programming for the nine counties of west central Minnesota, including Becker, Clay, Douglas, Grant, Otter Tail, Pope, Stevens, Traverse and Wilkin. LRAC offers artists and arts organizations in this area a variety of services and also distributes grants with funds from three sources: the Minnesota State Legislature, the McKnight Foundation and the Legacy Arts and Cultural Heritage Fund. Since its inception in 1977, LRAC has expanded to its current offerings of seven grant programs, a monthly newsletter, an arts calendar, two art galleries, workshops and networking meetings, an artist registry and technical assistance for arts organizations and artists. Until now LRAC has been operating with a static (non-interactive) website that carried only limited information, but strongly expressed feedback from the arts community sparked the redesign process.
The new interactive Arts Calendar offers arts consumers a multi-criteria search feature for events with the option of defining a personalized RSS feed for Calendar updates and a mobile application. A self-submission feature allows artists and arts organizations to post events directly to the website. The new Arts Calendar also enables LRAC staff to easily pull event information for spotlight promotion elsewhere on the website and in LRAC's monthly newsletter.
For individual artists, an online Artist Registry allows uploads of artists' work - images, text, videos, etc. - and contact information including active links to websites, will help to serve artists' marketing needs. Artists can also submit entries for gallery exhibits, register for workshops, and contact legislators online, directly through the website. A new Facebook page and YouTube Channel are also integrated into the redesigned site.
Maxine Adams, LRAC Executive Director, is enthusiastic about the website's impact on her agency's clients: "The redesigned site is a response to what people were telling us they wanted. All of these features offer a broader audience to the artists and arts organizations that we serve, and provide easier access to LRAC's services, grants, galleries. Most importantly, it more intimately connects everyone with the arts community. It's no longer just providing information, it's communication – in both directions."
With the increased functionality of a new website, interactive Arts Calendar, Artist Registry, and engaging social tools Lake Region Arts Council is helping the arts community and its audiences connect in new ways.
###