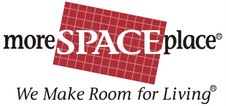 The Veteran's Transition Plan program offers these heroes a tangible, exciting, long-term business opportunity.
Clearwater, Florida (PRWEB) February 29, 2012
As part of a nationwide effort to help veterans find meaningful employment, More Space Place, a national leader in revolutionary space-saving furniture, is proud to announce its Veteran's Transition Plan, providing honorably discharged veterans a $15,000 discount toward opening a More Space Place retail franchise.
"These individuals have risked their lives to defend our country and many soldiers, after returning to civilian life, are coming home to a tough employment outlook and very limited career opportunities," said Marty Juarez, chief operating officer of More Space Place. "This program offers these heroes a tangible, exciting, long-term business opportunity, and our hope is that it will help secure a future for their families for many years to come."
As a top-ranked franchise for veterans since 2010, More Space Place offers its franchise owners everything from site selection and showroom design to accounting and on-going product knowledge to get their store off the ground. Today, veterans make up 30 percent of More Space Place owners, currently operating retail stores from the Rockies to the East Coast, and now expanding throughout the United States.
"Store owners do not need to have a history in furniture design, cabinetry or prior business ownership – through training and support, we will help them develop those skills," said Bob Schmidt, national director of installations and new owner trainer of More Space Place.
To boost employment overall, More Space Place offers a $10,000 initial store discount for qualified, displaced managers who would like to own and operate a retail store.
"Most of our store owners have come from a management career completely unrelated to furniture design or construction, creating a melting pot of knowledge and talent. We created a Displaced Managers Plan to further grow our retail stores and build on our existing diverse group of owners," said Clark Williams, president of More Space Place.
For more information about the Veterans Transition Plan, the Displaced Manager's Program or franchise ownership please visit: http://www.Top100Franchise.com. For information on More Space Place products and services, please visit: http://www.morespaceplace.com.
About More Space Place®
More Space Place has been a national leader in providing revolutionary space-saving furniture for the home, office and garage since 1987. With nearly 40 design centers across the United States, More Space Place helps customers make more room for living by offering innovative products like wall bed (Murphy BedTM) systems, custom closets, home offices and utility cabinetry.
Based in Clearwater, FL, More Space Place is the largest retailer of wall bed systems in the United States and currently employs approximately 210 individuals nationwide. Learn more about More Space Place by visiting http://www.MoreSpacePlace.com or calling 1-888-731-9031.
###