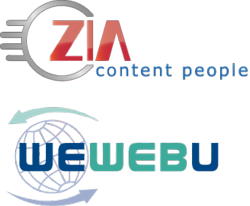 Today workers want to connect with content anywhere and on any device.
Herzogenaurach and Boulder, CO (PRWEB) February 29, 2012
"The MobileWorkdesk app designed for iOS makes real Enterprise Content Management (ECM) available on your iPad and iPhone wherever you are. Unlike existing mobile apps that only allow users to search and browse ECM systems, the enterprise features of MobileWorkdesk allow users to interact with personalized content like an individual inbox and to participate in workflow / approval processes from a mobile device. The comprehensive role management provides MobileWorkdesk users with exactly the specific applications, eFiles and searches they need to fulfill their individual business tasks – no matter where they are", states Dr. Rainer Pausch, Head of Products & Marketing at WeWebU. "Equally important, it is the first mobile solution designed to support large deployments of ECM systemssuch as IBM FileNet P8, IBM Content Manager 8 or Alfresco Enterprise with thousands of users and millions of documents and eFiles".
The MobileWorkdesk app will be available for free in the second quarter of 2012 from the Apple App Store. It will offer all important document management functions like browsing, searching and even uploading of documents and will work with any CMIS-compliant ECM repository. The enterprise features of MobileWorkdesk are provided by its unique server component. Connecting to it, MobileWorkdesk embraces the comprehensive business logic and productivity enhancing features that users of WeWebU OpenWorkdesk are already familiar with.
Mike Mahon, President & CEO of Zia explains: "Today workers want to connect with content anywhere and on any device. We are excited to be working with WeWebU to develop a new mobile solution that will allow users to interact with business content in new ways from a mobile device. The MobileWorkdesk app helps users to be more productive and perform their job more efficiently by accessing and interacting with content-centric business applications from a mobile device."
To learn more and register for a webinar including a demo of MobileWorkdesk, visit either http://www.wewebu.com/en/events/webinar-mobileworkdesk-first-enterprise-ready-mobile-ecm-soluion or http://www.ziaconsulting.com/OWD.
Please find this press release on http://www.wewebu.com.
Further Information:
Zia Consulting, Inc
Ryan McVeigh
VP ECM Solutions
ryan(at)ziaconsulting(dot)com
1 888 732 4101
About WeWebU
WeWebU Software AG – Unleashing Your Enterprise Information
WeWebUOpenWorkdesk is the best way of realizing content centric business applications. Based on major Enterprise Content Management (ECM) repositories of IBM, Alfresco or any CMIS compliant ones it facilitates efficient transactional content management.
In already 10 countries, many well-known customers mostly from the financial industry like HSBC, Hamburger Sparkasse, UniCredit Leasing and SUVA use WeWebUOpenWorkdesk. In the Public Sector the Finnish Government as well as several US federal and state agencies are unleashing their enterprise information by using Composite Content Applications based on the WeWebU products.
WeWebU Software AG is an IBM Advanced Business Partner as well as Alfresco Technology Partner. WeWebU Software AG is headquartered in Germany. WeWebUOpenWorkdesk is distributed and implemented internationally by a high class network of system integrators with local knowledge and broad industrial expertise.
To learn more about our products, solutions, customers and partners, please visit http://www.wewebu.com.
About Zia
Zia Consulting is a leading provider of enterprise business solutions for content management from paper to mobile.
Zia Consulting's Fresh Products and Mobile Applications for ECM enables users to create, store, share, and find content across the enterprise and on the go. Zia Consulting has worked with both the public and private sector to provide end to end business solutions for Procurement, Sales Automation, Contract and Records Management, eDiscovery, Knowledge and Business Process Management, Project and Expense Management, to name a few.
Zia Consulting, content anywhere, solutions here.
Please find more information at http://www.ziaconsulting.com.
###