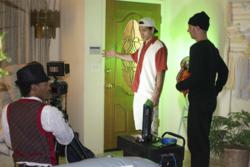 San Diego, CA (PRWEB) February 29, 2012
If you ever asked yourself "how do I make a movie", or wondered where to start, How To Make A YouTube Video.com could be a great resource for all questions related to video production. Anyone can make a YouTube video, but knowing and having all the tools is key to creating a successful online video. If you want to learn video production or just want to know how to make movies, whatever your goal is How To Make A YouTube Video.com makes it simple to get closer to that goal. This new filmmaking blog is the perfect place to help someone get closer to the ultimate goal of being a professional filmmaker, or at the least producing successful online videos.
There are many how to make video sites, but none are as user friendly and straight to the point as How To Make A YouTube Video.com. The site now features its first video from a filmmaker currently producing top-rated commercials, webisodes, and who also has a feature film in development. The filmmakers from the site will be available to answer questions on how they produced, wrote or directed the videos that are featured on the "How To Make A YouTube Video" website.
The first featured filmmaker in the site's spotlight is Nicholas George, author of the top filmmaking book Film Crew: The Fundamentals of Professional Film and Video Production. The multi-talented Nicholas George is not only an author; he is also an actor, producer and writer on multiple film and video productions. While pursuing his performing arts degree, Nicholas developed a passion for the behind-the-scenes elements of film production, and began producing short films, commercials, independent films and video projects. The latest video produced by Nicholas George and directed by De Veau Dunn is "Good Doggie". San Diego based production company Endi Entertainment submitted "Good Doggie" to the annual "Crash the Super Bowl" commercial contest. With over six thousand videos submitted to the contest, the popularity of "Good Doggie" placed it in the top 10 most viewed videos with over 80,000 views. Additionally, "Good Doggie" has received over 40,000 views on De Veau Dunn's YouTube channel.
About How To Make A YouTube Video:
How To Make A YouTube Video.com is a filmmaker's blog dedicated to helping new or existing filmmakers improve and share their film making skills. Please visit the How To Make a YouTube Video.com site for more information.
About Nicholas George:
Nicholas George is presently involved with several projects in various stages of development. His book "Film Crew: Fundamentals of Professional Film and Video Production" is currently being used as a teaching text and continues to gain increasing popularity among instructors of the craft. Nicholas has a reputation for not compromising the integrity of the creative process. Maintaining a high standard of production value, and above all else always insisting on serving the story first!
About De Veau Dunn:
De Veau Dunn started his career at a very early age as an actor and naturally had the creative ability of a writer. De Veau appeared in 22 commercials including Sunny Delight national that has become a YouTube cult classic. He also appeared in 3 pilots, and 2 television series, including one with Tom Arnold and a recurring role on the Emmy Award winning Ben Stiller show. De Veau is currently in production on a feature length documentary.
###