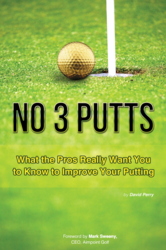 "Green reading has not been taught in the past. Only 2% of all golfers can aim thier putters and start the ball on the intended line, including tour players." - Mark Sweeney, Aimpoint Golf
Fort Collins, Colorado (PRWEB) February 29, 2012
In recent weeks we have seen many exciting finishes to professional golf tournaments. In several cases, tour pros made 3 putts which led to a win or loss. To eliminate 3 putts, golfers must make a proper green read, aim thier putter accordingly and exercise proper distance control.
According to Mark Sweeney, CEO Aim Point Golf, in the forward to David Perry's new book, No 3 Putts, "It all starts with good green reading, which is the process of correctly predicting the effect of gravity, slope, and time on your putt so that you can choose the correct target, as well as understand how hard to hit the ball." Most golfers don't realize they are guessing instead of reading the greens. Learn about green reading in this video from Aimpoint Golf.
Andy Thompson, from Totally Driven Golf, recently conducted several putter aiming sessions with golfers of all abilities to demonstrate this situation. Golfers were asked to do several putts; straight and either Left or Right, as well as gauge distance. A total of 56 golfers took part in these sessions with the following results:
1) Only 5% aimed properly, while only 16% putted the correct distance.
2) The average miss-read was 6" from 6'.
3) 69% of the golfers miss-read the putts.
4) Golfers averaged 48 years old, golfing for 32 years with a 12 handicap
These results clearly demonstrate the putting ability of the average golfer and supports Marks claim that green reading is not being taught to golfers. To help remedy this situation, AimPoint Golf, is focused on teaching green reading to golfers via thier network of certified instructors. Andy is an Aimpoint certified instructor and top rated club fitter that teached green reading and will fit client to the proper putter.
According to Andy, 'Going form Green Guessing to Green Reading is a huge step for most golfers." To improve your game, make sure you go from Green Guessing to Green Reading. Read about this and other topics to help you eliminate 3 putts in Dave Perry's new book, No 3 Putts, and improve your overall putting.
No 3 Putts is dedicated to helping all golfers eliminate 3 putts and raise the importance of putting in thier game.
###