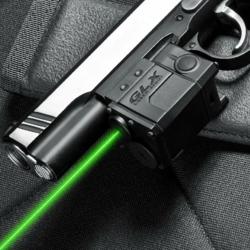 Barska Micro GLX laser can mounting to compact and sub-compact handguns
La Verne, California (PRWEB) February 29, 2012
The Barska tactical green laser sights are the ultimate in quick target acquisition laser optics. Available in four different models Barska's GLX third generation 5mw lasers produce a bright green laser dot for accurate targeting. The laser module produces green light in the wavelength of 532 nm, which is extremely visible to the human eye. The green laser sight dot being much more visible then the red laser dot makes it ideal for targeting long distances. Highly visible at night the green tactical laser performs extremely well doing the day.
The GLX tactical green rifle laser sight features external riflescope style windage and elevation adjustments for quick, high precision targeting. This large rifle laser makes zeroing in targets a quick and easy process, simply unscrew the protective adjustment caps to access the finger adjustable turrets to move the laser dot up to down and left to right. Powered by a high capacity CR-123A lithium battery (1pc battery included) the 3rd Gen GLX standard tactical laser can emit a high intensity green laser beam constantly for accurate targeting. The new tactical design integrates a tactical edged bezel into the strong T6 aluminum body for shockproof protection. The diamond cut exterior grip improves the mounting capability of the picatinny 1 inch mounting ring included with the laser sight. The GLX rifle laser sight package comes complete with a continuous push button on / off cap, momentary on / off long cable switch, 1 inch picatinny rail ring with a stabilizing cross bar insert for added support and one high capacity CR-123A lithium battery.
Barska's GLX compact mounted tactical laser sights are designed with an accessory rail mounted conveniently under the laser. The T6 aluminum body allows for the GLX laser sight to provide a strong, stable platform to mount accessories to its integrated military standard picatinny rail. The GLX compact laser sight is extremely versatile in its mounting options. The built-in mount is a weaver standard compact mount with a stabilizing cross bar insert for added support. The compact mount allows secure mounting to the shortest of rails on handguns and rifles.
The smallest mounted laser to date, the new Barska Micro GLX laser can mounting to compact and sub-compact handguns. Despite its small size, the micro GLX delivers the strength and durability needed to withstand the shock of rapid-fire recoil. The micro GLX laser is truly on the cutting edge of design and function. This micro compact mount allows the laser sight to be securely mounted to the shortest of rails on sub compact handguns and rifles. The ambidextrous tap on / off button is placed exactly where at the shooters trigger finger. This model emits a highly visible green laser beam. A new strobing mode keeps the shooters eyes at attention and on the target.
BARSKA, with corporate offices, warehouse and distribution in La Verne, CA (Southern California), is a worldwide sport optics company with strong brand recognition in the sporting goods industry. BARSKA offers an extensive line of precision sport optics products ranging from binoculars, riflescopes and spotting scopes to telescopes and flashlights. BARSKA is committed to delivering a superior quality product at an affordable price to our customers around the world. For more information, please call BARSKA at 1-909-445-8168, or visit them online at http://www.barska.com
###