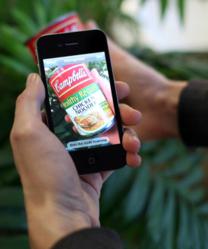 "This app, developed with the involvement of that community, is designed to increase independence and make a difference to a lot of people's lives."
San Diego, CA (PRWEB) February 29, 2012
NantWorks LLC, the company formed last year by Dr. Patrick Soon-Shiong, released its much anticipated LookTel Recognizer app at California State University Northridge (CSUN)'s Center on Disabilities' 27th Annual International Technology and Persons with Disabilities Conference. LookTel Recognizer, now available in the iTunes App Store, enables blind or visually impaired users to recognize an object instantly by simply pointing their iPhone camera at it and listening to the phone tell them what it is. Recognition happens in real time, with no need to hold the camera still or take a photo. The app will identify packaged goods in the pantry or the grocery store, identity cards, CDs in a music collection and many other everyday objects. It can identify locations such as the entrance of a home or office and signs above store entrances or restrooms.
Training the technology to recognize objects of importance to the user is a quick and easy process. Users build their item database by capturing an image of an item and recording an audio description. The item will then be immediately recognized when the phone camera is pointed at it. Recognizer allows users to back up and export their created databases via email, enabling them to share it with others or to restore a database from lost or replaced devices.
"More than 11 million Americans are considered blind or visually impaired," said NantWorks Chairman and CEO, Dr. Patrick Soon-Shiong. "This app, developed with the involvement of that community, is designed to increase independence and make a difference to a lot of people's lives."
Gary Kelly, Vice President of Product at LookTel, explained that "Recognizer can go to work when visual limitations are too great for identifying items in the environment where visual identification is essential. The app uses VoiceOver, the screen reading solution provided by Apple in every iOS device since the iPhone 3GS. VoiceOver aides Recognizer to bring the power of its unique engine to solving the everyday challenges encountered in performing simple tasks of daily living by so many Americans."
You can download the app here, or watch a video demonstration here.
Background on LookTel
Recognizer represents an evolution of NantWorks' patented and proprietary object recognition technology featured in the LookTel "Money Reader", an app launched in March 2011 that has already helped thousands of users with visual impairments or blindness identify and count bills. It earned a 5-star review average and a featured spot in the Apple App Store's "What's Hot" and Apple's "Utility App of the Year" Categories. The original technology was under sponsorship from the National Institutes of Health (NIH) and was awarded two research grants from the National Eye Institute (NEI) and the National Institute of Aging (NIA).
LookTel has been featured by the New York Times, Time, Tech Crunch, Engadget, and several other major publications. LookTel was selected as the winner of the Federal Communications Commission's (FCC) Chairman's Awards for Advancements in Accessibility. The award, which recognizes outstanding efforts to advance communications accessibility for people with disabilities, was awarded in Washington D.C. on October 28, 2011. For more information, see http://www.LookTel.com.
About NantWorks
NantWorks LLC is a company founded and led by Dr. Patrick Soon-Shiong. Its mission is to converge semiconductor technology, supercomputing, advanced networks, augmented intelligence and other technologies to transform how we work, play and live. Early applications will be in the fields including scientific research and healthcare. NantWorks is building an integrated, evidence-based, genomically-informed, personalized approach to the delivery of care and the development of next generation diagnostics and therapeutics. For more information, see http://www.nantworks.com.
###