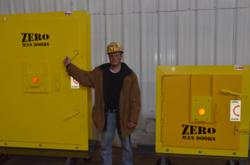 "These things are solid as a rock," says western Pennsylvania mine foreman Larry Cassidy. "Zero doors are the best on the market."
PIttsburgh, PA (PRWEB) February 29, 2012
Designed and built by mining-industry veterans, the patented Zero Man Door stands up to convergence and heaving that cause conventional mine doors to leak, warp and jam. "These things are solid as a rock," says western Pennsylvania mine foreman Larry Cassidy. "Zero doors are the best on the market."
Cassidy has installed hundreds of Zero doors at the CONSOL Energy's Bailey Mine in Wind Ridge, Pa. "Ventilation leakage was costing us a lot," he says. "Now our airflow is better than it's ever been, and we're saving money on maintenance, too. Zero doors seal tightly, stay tight and don't have to be replaced nearly as often as other doors."
According to Allan Bunner, Vice President, of Zero Man Door in Pittsburgh, the Zero design is a response to real-life challenges. "We spent months talking to mine operators, ventilation people and individual miners. They showed us mine doors that folded up under pressure, were difficult and dangerous to operate, and wasted air and energy."
"So we engineered a whole new solution, from the ground up." The result, he says, is the toughest mandoor for mining in the industry, with heavy, galvanized, 10-gauge steel-tube frames and 16-gauge door panels. "In the field, our customers are seeing much higher reliability and productivity, and much less downtime," says Bunner.
Standard Zero safety features include rolled door edges that won't snag skin, clothes or equipment; high-visibility warning reflectors; and an exclusive auto-closing mechanism that eliminates slamming and keeps body parts out of harm's way. For safe travel between high- and low-pressure spaces, each door is equipped with a built-in equalizer port to minimize air-control disruption. The port doubles as a convenient rock-dusting access point.
"Our simple, modular design makes installation a snap," says Bunner. "Using one simple tool, one or two men can assemble several doors in a single shift. For maximum flexibility, our standard sizes range from 30" x 30" to 48" x 60"—all with adjustable frames that fit 6-inch, 8-inch, and thicker stopping walls.
"And, finally, Zero doors seal better, too," he says. "With sure-tight latching handles and extra-durable fiberglass gaskets, they keep ventilation air where it belongs, more reliably than conventional doors can."
Zero Man Doors are made in the U.S.A. and available from coast to coast. For more information, call Zero Man Door at 888-524-3113 or Zero's distributor, Fairmont Supply Company at 800-245-9900 Ext. 3968, or visit http://www.zeromandoor.com.
# # #