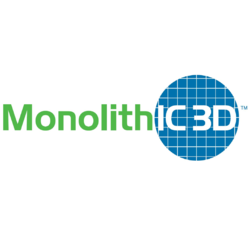 San Jose, California (PRWEB) February 29, 2012
MonolithIC 3D Inc., a Silicon Valley startup, announced today that it has been issued fundamental patents on 3D Field Programmable Gate Arrays (FPGAs) and 3D Memories. The company now has 7 issued patents with more than 50 other patents pending, making it one of the key players in the 3D-IC field. MonolithIC 3D Inc. was recently selected as a Finalist of the "Best of Semicon West 2011" for its disruptive technology.
One of the issued patents, US Patent #8,115,511, describes techniques to utilize 3D chip technology to lower mask costs of FPGAs. According to Zvi Or-Bach, the President and CEO of MonolithIC 3D Inc., "Our FPGA architecture dedicates one stratum purely for the programmable logic and has other elements such as I/O and memory on different strata. The programmable logic layer is specially designed such that one set of masks can support many different array sizes. This becomes a huge win for FPGA vendors as mask costs sky-rocket with scaling. Customers also benefit since they don't have to pay for bigger chips than they need."
The other issued patent, US Patent #8,114,757, describes methods to build 3D versions of different memories such as NAND flash, DRAM and RRAM using shared lithography steps. Dr. Deepak Sekar, the Chief Scientist of MonolithIC 3D Inc., said, "The industry is actively pursuing monolithic 3D memories with polysilicon transistors. Our company's technology allows single crystal silicon transistors to be used, thereby improving the performance, cost and commercialization potential of these 3D memories considerably."
"Our patent portfolio includes broad and fundamental claims, providing MonolithIC 3D Inc. with strong IP protection", noted Brian Cronquist, MonolithIC 3D Inc.'s VP of Technology & IP. "We are pleased with the US Patent Office's recognition of our technology's innovativeness."
Further details of MonolithIC 3D Inc.'s technologies are available on its website. The company's business model involves Intellectual Property (IP) Licensing to partners who then take the technology to manufacturing.
About MonolithIC 3D Inc.
MonolithIC 3D Inc. is an IP company dedicated to innovation in semiconductor design and fabrication. It invented and developed a practical path to the monolithic 3D Integrated Circuit, which includes multiple derivatives for Logic, Memory and Electro Optic devices. The company was selected as a finalist of the Best of West 2011, which recognizes the most important product and technology developments at Semicon West.
###