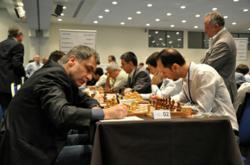 Ukrainians are not just great Chess players - they excel in Math & Strategy development.
Toronto, Canada (PRWEB) February 29, 2012
In response to growing demand by new and existing clients, TradingSystems has expanded the size of its Ninjascript consultants team in Ukraine for a total of 14 capable resources.
The overseas team specializes in implementing complex automated trading models for systematic buy side traders that trade forex, equity index futures, commodity and energy derivatives and cash equities.
In addition to developing custom indicators and strategies on NinjaTrader, the team also supports other leading platforms including MultiCharts, MT4 and other leading institutional platforms.
The overseas team is headed by Doron Whitman, a leading designer of Algorithmic Trading Strategies based in Toronto, Canada.
About TradingSystems.ca:
TradingSystems.ca is vendor agnostic and is licensed by many 3rd party vendors (including QuantHouse, Deltix, 4th Story, NinjaTrader, Multicharts and others). If you are looking to have changes made to an existing indicator, would like a set of tools built from scratch, require a semi automated (greybox) or a completely automated (blackbox) trading system built from the ground up, we are the partner you are looking for.
Creating a production ready strategy requires technical skills, relevant experience, and in-depth knowledge of trading and markets. The team at TradingSystems.ca specializes in turning trading models into profitable automated strategies. We have the technical, mathematical, and financial experise to develop and automate your models in 30 days or less in most cases.
Clients range in size from buy-side prop traders and large sell-side market makers, to individual retail traders. Although the size and needs of our clients vary, we offer unmatched quality and attention to detail that is among the best in the industry and covers:

Automated Trading Strategies
Indicator Development
Pattern Recognition Algorithms
Platform Conversions
# # #