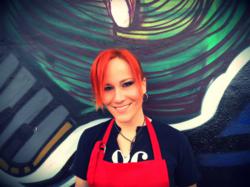 "I'm allergic to boring."
Miami, FL (PRWEB) February 28, 2012
Chef Adrianne Calvo is making headlines and taking large strides once again, by partnering with the hottest ticket in town: Dali Miami. Chef Adrianne's Vineyard Restaurant and Wine Bar is being catapulted in to the spotlight as the destination dinner location of South Florida and now will be the culinary high point featured at the largest private collection of Salvador Dali to come to North America. Dali Miami handpicked Chef Adrianne Calvo because of her creativity and "maximum flavor" she brings to her dishes and makes them digestible pieces of art.
"I am looking forward to re-create dishes by Salvador Dali's Cooking recipes with my own spin and flare. I feel so honored and inspired to be a part of such a landmark event surrounded by the work of one of my favorite Artist."
Aficionados of the acclaimed and equally flamboyant surrealist artist Salvador Dali will, for the first time in South Florida, have an extraordinary opportunity to view an extensive collection of work, Wednesday, March 7 through Sunday, March 11 when DALI MIAMI will bring more than 200 works of his expansive artistic repertoire to the Design District's iconic Moore Building.
DALI MIAMI is being produced by Michael Rosen, president and CEO of Colored Thumb, a driving force behind many of the area's top art exhibits including Art Basel, Art Expo, and RedDot Fair and Nick Betancourt of Betancourt Productions. Curator of the show is Reed V. Horth President and curator of Robin Rile Fine Art, a specialist in Dali's prodigious output, who will be providing the original paintings, drawings, lithographs, photographs and marquis sculptures from the master, valued at approximately $8 million.
Among these treasures will be Dali's seminal bronze "Venus de Milo with Drawers" (1964- 114cm), the gouache original "Spring Rain" (1949), the full set of "Dix Recette d'Immoralité" (1973), the rare original intaglio "The Grasshopper Child" (1934), and his Daum glass masterpiece "Montre Molle" (1971), depicting his quintessential melting clock.
Chef Adrianne's Vineyard Restaurant and Wine Bar, the enclave that has become an epicenter of gastronomic creativity in the highly competitive South Florida restaurant scene, will serve as the host location for this sensual dining adventure. This highly acclaimed culinary gem tucked away from all the vapid South Beach scene, brings to mind Napa Valley and is emphasized by the Northern Californian décor and luxurious wine options.
The Dark Dining format, which entails that participants dine blindfolded in a particularly dimly-lit setting throughout a multiple-course meal, has proven to be an ideal platform for the work of a chef that is already renowned for her ability to pleasantly surprise her guests and their palates on a regular basis with dishes that feature a succulent, and often unprecedented, combination of flavors. With their sight temporarily unavailable, Dark Dining guests at Chef Adrianne's are able to hone all of their other senses in on their meals, considerably enhancing their level of enjoyment.
Chef Adrianne's is located at 11510 SW 147 Avenue Miami, Fl 33196 for reservations please call (305)408-8386 or (305)408-8388 and follow Chef Adrianne Calvo on Twitter or Facebook.
Restaurant: http://www.chefadriannes.com/?page_id=13
Facebook: http://www.facebook.com/chefadrianne
Twitter: http://twitter.com/#!/ChefAdrianne
For additional press information:
Nick Betancourt
npb305(at)hotmail(dot)com
786-287-1725
###