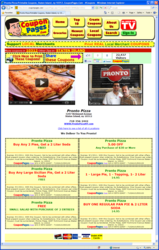 Cable TV is a great way to spread the word about our printable coupons. We've reached nearly 20 million viewers that way.
Staten Island, NY (PRWEB) February 29, 2012
The printable coupon market is red-hot right now, so CouponPages.com has stepped up it's cable TV campaign by adding two additional 15 second commercials that focus exclusively on printable coupons. One commercial will promote the CouponPages brand, while the second will promote PrintableCoupons.com
"Cable TV is a great way to spread the word about our printable coupons. We've reached nearly 20 million viewers that way," said Joe Crescenzi, founder of CouponPages.Com. "We're a site about saving money, and that appeals to everybody, so we run our commercials in a broad range of channels."
The bulk of the spots will run on stations like Fox Business Network, Great American Country, Sleuth, Animal Planet, National Geographic Wild, SOAPnet, CNBC, OWN (the Oprah Winfrey Network), Nickelodeon, Comedy Central, HDNET, TV Land, CNN, Food Network, Fox News, ABC Family, Bravo, SyFy, Golf Channel, RFD Network, Weather Channel, Oxygen, Bloomberg Business Television, AMC, Lifetime, USA, etc.
According to Crescenzi, CouponPages is currently developing at least 4 additional commercials which will be launched in the coming weeks. "We are expanding into new markets very quickly, so it's important that we build a local audience in as many cities as possible. The focus of the upcoming ads will expand on the printable coupon spots, while adding additional information for merchants who are considering advertising online."
"We focus on helping small merchants advertise online, so we want to make sure they know we are a much smarter option than sites like Groupon and LivingSocial, because unlike those sites, CouponPages doesn't force them to put up discounts larger than they can afford, nor do we take any of their revenue."
Deal of the Day sites like Groupon and Living Social customarily request that merchants post offers of 50% to 70% off, then their cut is 50% of the revenue. This means that a merchant that normally sells an item for $100, is expected to sell that item for $50, which is a big loss. "As if losing 50% wasn't bad enough, those sites take $25 of that, so the poor merchant only gets $25. How on earth can any merchant make money on a deal like that?" added Crescenzi.
Here's a transcript of the ad:
"Now wouldn't it be great if you could print your own money?"
"Well you can't exactly do that!"
"But did you know you can do the next best thing, by printing your own... coupons?"
"Really. Print your own coupons at CouponPages.Com. These are real coupons"
The commercials are also available on YouTube:
PrintableCoupons Commercial #2
CouponPages.Com is one of the oldest and largest printable coupon sites that features printable coupons from local merchants. 100% of the coupons on CouponPages.Com are printable. The site does not feature "Coupon Codes" that are used to buy things online. "Every coupon on the site is a printable offer you can use in your own backyard" says Joe Crescenzi.
###