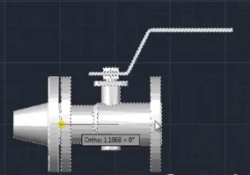 extremely efficient way to use the 3D block library, making it one affordable yet powerful Piping Solution
3D Piping Block Library Now Includes Full Dialog Control (PRWEB) February 29, 2012
SimpleCAD announced today a new add-on is now available for their 3D Piping Block Library and offers full dialog control within AutoCAD®.
President Erik Zetterberg from SimpleCAD explains " This new dialog interface offers CAD designers a faster way to insert the various blocks into their AutoCAD drawing."
Without the new dialog option, the existing 3D Piping collection integrates into AutoCAD using a simple pull-down menu. Various piping blocks are then displayed as thumbnails. The user must locate each fitting and then finally add it into the drawing.
The new graphical interface is designed to expedite the process of finding the correct symbol without having to use the standard pull-down system. Although the two different systems can also work together if needed.
Once the dialog control is loaded from a floating toolbar, a few options need to be selected, and then the program locates the matching part and finally inserts it directly into drawing.
The AutoCAD compatible library features the following:

4,600 blocks for Piping
Includes various Pipe fittings, Valves, Expansion Joints
Compatible with AutoCAD, LT and AutoCAD Civil 3D
One click insert and rotate operation
30 day money-back guarantee
Erik describes this library as an "extremely efficient way to use the 3D block library making it one affordable yet powerful Piping solution."
About SimpleCAD:
SimpleCAD specializes in various AutoCAD® symbol libraries and Piping Software designed for the professional engineer and drafts person. They have been actively serving the AutoCAD® industry for over 25 years and offer various CAD solutions for different drawing applications.
In addition, other Piping related libraries are also available at SimpleCAD.com, which include 2D Piping, P&ID and Isometric Piping.
Demos of the various libraries are available upon request. Please email SimpleCAD - mail (at) simplecad.com or by calling their toll free line at 877-933-3929.
###