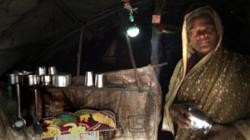 Our partnership with Eureka Forbes gives us a chance to provide a large-scale solution to a large-scale problem.
Denver, CO (PRWEB) February 29, 2012
In a sign of their increasing commitment to community development, Nokero International has partnered with India's Eureka Forbes Ltd (EFL) to bring Nokero's world-renown solar products to South Asia.
More than 300 million Indians live without access to electricity, and often burn dangerous and polluting kerosene for light. Globally, millions die or are injured in kerosene fires and 190 million tons of carbon dioxide are released into the air each year (sources: The Lumina Project, IEA World Energy Outlook 2011).
"In the two years since our company launched we've had excellent results alleviating energy poverty on a small- to mid-scale," said Nokero Founder Steve Katsaros. "Our partnership with Eureka Forbes gives us a chance to provide a large-scale solution to a large-scale problem."
Energy poverty has gained the attention of the United Nations and Secretary General Ban Ki-Moon, who declared 2012 the Year of Sustainable Energy for All and wrote a recent column about the problem in the New York Times. Nokero and EFL are participants in the UN's Sustainable Practitioner's Network.
"Eureka Forbes is commited to making a better, healthier environment through thoughtful community developent," said EFL's A.V. Suresh. "Working with Nokero, we believe we can have a tremendous impact on energy poverty in India."
Nokero's cutting-edge solar technology provides a safe, renewable solution to the problem of energy poverty by offering a durable, long-lasting solar light as a replacement for kerosene lamps. Nokero lights use patented 3-ply solar panels, bright white LEDs, and lead-free, recyclable batteries to provide a solution for the more than 1.3 billion people worldwide who live without electricity (learn more at http://www.nokero.com).
This cutting edge technology recently earned Nokero recognition as a finalist for the World Design Impact Prize and a semi-finalist in the Zayed Future Energy Prize.
Nokero's line of products has been specially branded as "Eurodiya" for use in India, where a significant portion of the world's energy poor are in need of a solution.
Providing solar light can help families stay healthy, more productive, and save money in comparison to burning kerosene lamps, and a typical kerosene-using family can make up the cost of their Eurodiya light in about two months or less (depending on local kerosene costs).
About Nokero
Nokero (short for No Kerosene) was formed in June 2010 to develop safe, affordable and environmentally-friendly technology that eliminates the need for harmful and polluting fuels used around the world.
Nokero is a fully-financed, privately held company with offices in Denver, Colorado and Hong Kong. Nokero's Denver office, led by American inventor and company founder Steve Katsaros, generates new advances in solar LED design and technology and focuses on business development, marketing, and public relations. The Hong Kong office handles manufacturing, shipping and logistics
About Eureka Forbes
Eureka Forbes Ltd is one of the most well-known names in India. Born as a joint venture between the Forbes Group and Electrolux of Sweden, today the company is a $250-million, multi-product, multi-channel organisation, part of the Shapoorji Pallonji Group and with a global footprint. The company ranks among India's Most Admired Consumer Durable Companies and amongst the Best Employers in Asia and India. A case study at the prestigious Harvard Business School ranked EFL as one of the Most Admired Knowledge Enterprises in Asia and India.
###