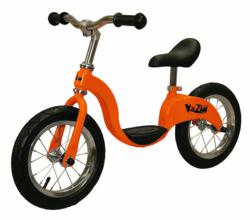 The American Widow Project is honored to have Kazam Bikes support the military widow's whose heroes have made the ultimate sacrifice, by supporting our efforts with each bike purchased." - Taryn Davis
Virginia Beach, VA (PRWEB) February 29, 2012
KaZAM is a small company hoping to make a big difference in the lives of military widows. KaZAM will make a $5 contribution to the American Widow Project for every KaZAM purchased at full retail value at KazamBikes.com.
The American Widow Project is a non-profit organization dedicated to the new generation of those who have lost the heroes of yesterday, today and tomorrow, with an emphasis on healing through sharing stories, tears and laughter. To learn more about the American Widow Project please visit http://www.americanwidowproject.org.
"The American Widow Project is honored to have KaZAM Bikes support the military widow's whose heroes have made the ultimate sacrifice, by supporting our efforts with each bike purchased. What one may look at as a gift for a child, we will look at as a part of the needed healing and support for this generation's widows," notes Taryn Davis, Founder and Executive Director.
The KaZAM Balance Bike was invented by John Lugo and his childhood friend Michael Wagner based on their experience teaching their children how to ride a bike. Lugo and Wagner developed the KaZAM's patented and award-winning design on nights and weekends in Wagner's garage.
The KaZAM Balance Bike was named one of the 20 Best Summer Toys in the June 2011 edition of. Parents Magazine. The award-winning KaZAM bike also has been featured on NBC's The Today Show, in Parenting Magazine, and was the recipient of the 2010 Oppenheim Toy Portfolio Gold Seal Award and the 2010 Creative Child Magazine Ride-On Toy of the Year Award.
When active duty military member John Lugo learned about The American Widow Project, he and Wagner knew they wanted to support the organization's work by donating $5 for every KaZAM sold at http://www.kazambikes.com.
About KaZAM:
KaZAM balance bikes are available online for $99.95 (includes free shipping) and at specialty bicycle and toy retailers nationwide. KaZAM ™ bikes are available in Orange, ed, Green, Pink and Blue. Visit http://www.kazambikes.com today to learn why KaZAM offers the most innovative and best balance bike on the market.
###