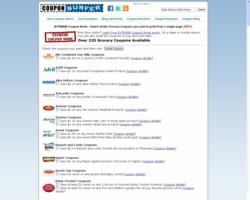 I love this option! Much easier to scan through all the available coupons in one link and pick what I want. Thanks for making couponing easier and faster. (for us working moms!!!)
Bedford MA (PRWEB) February 29, 2012
CouponSurfer.com announces the release of it's new Extreme Coupon Mode grocery selector. Designed specifically for experienced coupon users, Extreme Coupon Mode enables couponsurfers to quickly select the grocery coupons they want to print from a single page.
"Before Extreme Coupon Mode, consumers had to scroll through pages and pages of coupons to find the specific coupons they wanted," said Charles Vavruska, Vice President of Marketing, CouponSurfer.com. "Extreme Coupon Mode makes it simple for consumers to save. Now they can save both time and money by using CouponSurfer.com."
CouponSurfer's Extreme Coupon Mode is designed to help consumers who frequently print grocery coupons. Extreme Coupon Mode is currently available at http://www.couponsurfer.com/grocery_print_list.cfm - With the growing number of mobile devices, Extreme Coupon Mode also enables visitors to select the coupons they want from wherever they are and email the coupon list to themselves to print later at home or work.
Here's What CouponSurfer Visitors are Saying About Extreme Coupon Mode:
"I LOVE this new way. No more scrolling through 15-20 pages of coupons. This way was much, much easier and I hope you continue to do it this way."
"I love this option! Much easier to scan through all the available coupons in one link and pick what I want. Thanks for making couponing easier and faster. (for us working moms!!!)"
"I like that I can see all products on a single page and then select what I want as opposed to scrolling through multiple screens."
"I love this option! Being able to see all the coupons on one page with the option to see the details is great!"
About CouponSurfer, Inc.
CouponSurfer.com is a leading provider of digital coupons including printable Internet grocery coupons with nearly 2 million members. The mission of CouponSurfer.com is to save consumers money when they shop by offering top brand-name coupons for groceries, clothing, gifts, shopping, toys, travel and more.
###