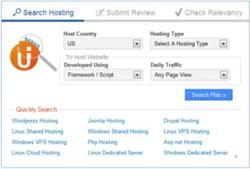 Increase the visibility of web hosting companies by submitting them to HostUCan.com
(PRWEB) February 29, 2012
HostUCan.com, a leading web hosting review and search platform, today announced the release of their new features, with which each web host could publish their company profile, hosting solutions, coupons and latest news.
Above functions could be obtained by opening a company account with HostUCan.com, after which, those web hosting service providers will be able to submit their company information, and then hosting packages, coupons and news. All those submitted data could be searchable via a serial of tools HostUCan has developed, such as Web hosting Search, web hosting Coupon Search, Web Hosting Company Search, etc.
"By submitting a web hosts to HostUCan, their hosting solutions will be searchable in HostUCan Hosting Search Engine, it definitely help increasing the visibility of their products and service. Besides this, their news or latest promotion campaign will be presented before thousands of our visitors every day," said by HostUCan.com.
Opening a company account in HostUCan.com is totally free. For the detail of this, please refer to User Manual of Main Company Data in HostUCan.
About HostUCan.com
HostUCan.com is a need-centric web hosting search and review platform. Their powerful products search engine could help webmasters find the best hosting solutions based on their hosting needs. HostUCan is also a place for webmasters to share their hosting experience and to seek information from other experts.
###