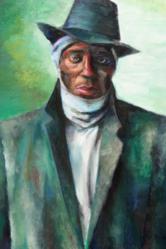 All artists should have the chance to reach their full potential
San Francisco, CA (PRWEB) February 29, 2012
Expose SF recently announced its plan to create a new platform upon which fine artists can achieve notoriety. This art promotions organization has found a way to combine the magnitude of social media with the power of visual arts.
The idea is simple: Art patrons and enthusiasts are the ones who actually buy artwork from galleries. Why shouldn't they be the ones who choose what art is displayed there in the first place?
Expose SF thinks that's exactly how it should be!
Using an algorithm to combine online art enthusiast votes and industry professional opinions, Expose SF will hold a series of art competitions which will culminate in several fine artist champions. These art competition winners will be given awards and granted space at various art galleries across the country.
In promoting San Francisco artists, Expose SF also hopes to change how we think about aspiring artists – giving them a way to promote themselves on the ExposeSF.com artist social network (coming soon!).
It's extremely difficult for artists to become 'found' these days. Even highly talented individuals can be overlooked. Without solid connections in the fine arts industry – or very good luck – it is as hard to become recognized as an artist as it is to get famous as a musician or movie star. Expose SF believes that all artists should have the chance to reach their full potential, and through this SF art competition, they truly may.
The Expose Artists movement has been gaining momentum. Expose SF has a growing Twitter following (@ExposeSF) of roughly 2,000 people, including San Francisco Magazine, San Francisco Arts Institute, the SF Art Enthusiast, and - whether they like it or not - Jersey Shore's 'The Unit'.
Although Expose SF is already working with the award-winning web design team at Vento, the organization is now looking for partners in the art industry who support the cause and realize that this type of movement can bring widespread attention to the industry.
"We love San Francisco, and we love art. Get the exposure you need with Expose SF!"
###