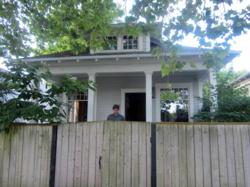 "I just wanted to be warm, and I'm so happy with the result. After the CEWO retrofit I'm using less energy and I'm warm. Before? I kept the heat on just enough so I wouldn't freeze to death!" - Jody Naff, Portland
Portland, Oregon (PRWEB) February 29, 2012
Portland homeowner Jody Naff's 1912 cottage was just 1,300 square feet in size, but nearly impossible to heat in the winter. So when Clean Energy Works Oregon (CEWO) launched last year she was among the first to sign up for the program and its financial incentives for home performance improvements. She selected established Portland green builder Hammer & Hand to be her CEWO contractor.
"I just wanted to be warm, and I'm so happy with the result," said Naff. "After the CEWO retrofit I'm using less energy and I'm warm. Before? I kept the heat on just enough so I wouldn't freeze to death!"
Discussions of home performance retrofits tend to focus on energy efficiency, and for good reason. A well-orchestrated home energy retrofit can bring a 30% gain in efficiency for an older home. But Naff's experience shows that comfort is an equally important ingredient.
So is health and safety.
"During the home performance assessment I learned that an industrial hood installed by a previous contractor had set up a dangerous situation in my house," said Naff. "If I ran that hood while my furnace and hot water heater were on, there was a real possibility of carbon monoxide poisoning."
As is sometimes the case in older homes, dangerous combustion fumes from an old hot water heater were being trapped inside Naff's house. A primary function of home energy audits (also called home performance assessments) is to uncover these sorts of hidden dangers and to prescribe remedies.
With data and modeling results from the energy audit in hand, Hammer & Hand's building scientists compiled a suite of retrofit measures designed to transform the performance of the client's historic Portland home:

Replace knob and tube wiring.
Remove old insulation, air seal, and blow in high-density cellulose insulation.
Install an on-demand tank-less hot water heater and high-efficiency furnace.
Install a high-performance WhisperGreen continuous exhaust fan to provide fresh air to the house in an efficient, controlled flow.
The result was a marked improvement in Naff's home environment.
"Now friends and family don't make fun of me anymore for how cold my house is," Naff quipped. "And they can take their coats off when they come over."
For more about Hammer & Hand's Clean Energy Works Oregon energy audits and home performance retrofits, including a more detailed accounting of Naff's experience, visit http://hammerandhand.com/cleanenergyworksoregon
About Hammer & Hand
Hammer & Hand is dedicated to stewardship of the built environment through craft and science, everything from traditional bathroom remodels to deep energy retrofits to modernist Passive House structures. Based in Portland, Oregon, the remodeler and builder can be reached at http://hammerandhand.com or by phone at 503-232-2447.
About Clean Energy Works Oregon
Clean Energy Works Oregon (CEWO) is a non-profit program established to reduce energy waste by encouraging homeowners to take direct action. By the end of 2013, Clean Energy Works Oregon aims to: create or retain 1,300 jobs; complete 6,000 home energy retrofits; retrofit 3.5 million square feet of commercial buildings; save more than 300,000 MBTUs of energy; and reduce measure-life carbon dioxide by 200,000 metric tons. http://cewo.org
###