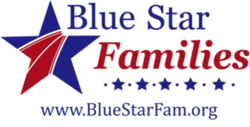 Furthering our commitment to increase literacy amongst military children and encouraging families to read together, BSF chapter events on March 2nd include Fort Huachuca, AZ; Fort Benning, GA and military impacted communities in California.
Washington, D.C. (PRWEB) February 29, 2012
Military families Books on Bases programs held nationwide
Blue Star Families is pleased to announce that its literacy program for military children, Books on Bases, has joined The National Education Association's Read Across America Day, March 2, 2012, participating in the ongoing effort to "build a nation of readers."
Marking the 15th anniversary for Read Across America, participation expected to reach over 45 million people nationwide. This year's event is co-chaired by cast members of Dr. Seuss's "The Lorax" which premiers in theaters the same day as Read Across America Day and Dr. Seuss's Birthday, March 2nd.
Furthering Blue Star Families' commitment to increase literacy amongst military children and encouraging families to read together, BSF chapters around the country will host reading events on March 2, 2012. Events planned include Fort Huachuca, Arizona; Fort Benning, Georgia and military impacted communities in California.
"The first step in ensuring our children's educational success is through reading," said Tricia Ross, program manager for Books on Bases. "The ability to read shapes a child's ability to learn, and literacy is the foundation that is needed to become a successful, life-long learner. Parents that take an active role as their child's first teacher help to establish the value of education in their home early on, which in turn, sets up a precedent of the importance of literacy and learning."
Books on Bases, is a program created by Blue Star Families to positively impact the lives of military children through the power of reading.  Blue Star Families continues its mission to promote literacy among military children by providing books to military children, military base libraries, Department of Defense Schools, military impacted public schools and community libraries. The program is dedicated to developing a love of reading among our military children; one of the best ways to accomplish this to simply read to them. The everyday lives of military families are challenging and books can be used as a tool to provide the opportunity for escapism, stress-relief, self-expression and dialogue over thoughtful matters that may otherwise be difficult.
Added Ross, "What better way to show the importance of reading then by celebrating one of the most inspiring children's authors of all time? Blue Star Families is excited to participate in this year's Read Across America Day and encourage military family's bond through reading."
About Blue Star Families
Blue Star Families is a national, nonprofit network of military families from all ranks and services, including guard and reserve, with a mission to support, connect and empower military families. In addition to morale and empowerment programs, Blue Star Families raises awareness of the challenges and strengths of military family life and works to make military life more sustainable. Membership includes military spouses, children and parents as well as service members, veterans and civilians. To learn more about Blue Star Families, visit http://www.bluestarfam.org.
About NEA's Read Across America
The National Education Association is building a nation of readers through its signature program, NEA's Read Across America. Now in its thirteenth year, this year-round program focuses on motivating children and teens to read through events, partnerships, and reading resources.NEA's Read Across America Day, NEA's national reading celebration takes place each year on or near March 2, the birthday of Dr. Seuss. Across the country, thousands of schools, libraries, and community centers participate by bringing together kids, teens, and books.
Media requests may be directed to Stephanie Himel-Nelson at 703-472-6292 or Tricia Ross at 910-430-4216
###