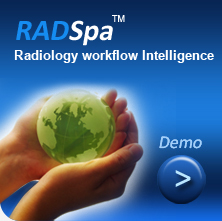 A cloud based teleradiology workflow - RADSpa (TM) deployed in Africa.
New Haven, CT (PRWEB) February 29, 2012
RADSpa (TM), a unique cloud based teleradiology workflow pioneered by Telerad Tech and America's #1 national teleradiology provider - Teleradiology Solutions has been deployed for the first time in Africa.
RADSpa (TM) is being used to transmit images from Regency Medical Centre in Tanzania to radiologists at Teleradiology Solutions headquarters in Bangalore, India. A second site where RADSpa (TM) is currently going live is in Nigeria. Africa, which has a shortage of trained doctors, is using high end technology such as Cloud based Teleradiology workflow 'RADSpa (TM)' to get expert medical opinion from specialists in India and other countries.
According to Mr Ricky Bedi, CEO of Telrad tech, "RADSpa (TM) is much more than a RIS PACS- it is a complete teleradiology workflow-something today's Radiologists increasingly need."
RADSpa (TM) now has more than 50 installations worldwide, including one in a 17 hospital chain in Poland. It embraces cloud computing which means the application can be up and running faster, with easier manageability and less maintenance. The 'Cloud based' delivery mechanism also eliminates the need for expensive infrastructure and time consuming implementation processes.
About Telerad Tech
Telerad Tech has been founded by a group of technology innovators and eminent radiologists with the focus to develop products and solutions to address the gaps and needs of Healthcare IT in general, and radiology automation systems in particular. Having partnered with a leading Teleradiology institute and led by technologists with a background in developing and deploying automated solutions, Telerad Tech has the best mix of domain understanding and technology prowess to implement technology solutions to solve the radiology workflow problems. The products are developed, tested and piloted in the radiology eco-system and hence generate the most efficient, radiologist friendly work-flow. Telerad Tech has offices in USA and India
For more information visit http://www.teleradtech.com, email sales(at)teleradtech(dot)com or info(at)teleradtech(dot)com or call +1-978-264-8364 or +91-80-40187500.
###