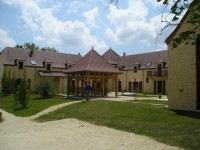 (PRWEB) February 29, 2012
Following a report that the Bank of England is now using internet search data as an economic indicator, Leggett Immobilier is pleased to publish their "LOVE France" (Leggett Online Visitor Enquiries in France) index - a monthly analysis of visits to their leading French property website.
In 2011 Leggett Immobilier increased sales by almost 30%. Jan 2012 has shown interest in their website http://www.frenchestateagents.com continuing to rise with with an increase in visitors to over 100,000.
The biggest jump in visitor numbers has come from the Channel Islands with an increase of 85% from Guernsey and 46% from Jersey. These potential buyers have also taken a strong interest in the new website of prestige properties (http://www.leggettprestige.com) although these figures are not included in this indices.
January also saw important increases in visitor numbers from Russia (up 97%) and Hong Kong (up 86%)
Last month also saw a rise in referrals to the site from social media sources such as Facebook and Twitter. Users accessing the site from mobiles saw a dramatic rise and now constitutes 8.5% of all visitors (2.5% this time last year).
According to the Leggett index, South-West France is one of the most popular areas this year with last month seeing rises for both Poitou Charentes (visitor numbers up by 136%) and Aquitaine (up by 106%). However, there is also interest in the regions Brittany and Normandy where visitors have increased by 129% and 85% respectively when compared to last year.
Visitors to the site came from 175 different countries in January, with a noticeable jump from the Channel Islands, Hong Kong and Russia. Traditionally strong sources such as Netherlands, Belgium and Switzerland saw slight falls. The most popular countries were United Kingdom, France and USA followed by Australia and Ireland.
Leggett Immobilier is one of the leading international estate agencies in France with a reputation build over the last two decades. They have representatives in all of the most popular areas of France and their website currently has over 7,200 properties for sale.
Statistics are taken from the international website and do not include figures from the French domestic website, nor from the prestige website which services the luxury end of the market.
###