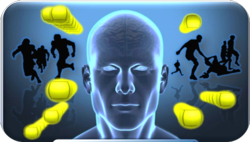 A pioneering technique for improving sports performance.
Montreal, Quebec (PRWEB) February 29, 2012
NeuroTracker was used widely at the 2012 NFL Combine to assess athletes' perceptual-cognitive skill – their ability to see the whole field and make effective play decisions. The system has already been used extensively by elite teams in several major sporting leagues for both measurement and training, and a recent scientific study has shown that the training of this particular mental ability is crucial for peak performance in team sports.
NeuroTracker involves tracking multiple moving targets in a wide 3D field of view. Training rapidly conditions the high-level brain resources critical to performance in team sports - allowing athletes to improve their response time during gameplay and enhance their situational awareness. The science behind NeuroTracker was developed over 20 years at the University of Montreal by world-leading neurophysicist Dr. Jocelyn Faubert, whose paper 'Perceptual-cognitive training of athletes' was recently published in the Journal of Clinical Sports Psychology.
"Though the term 'perceptual-cognitive skill' sounds complicated," says Dr. Faubert, "it simply refers to how well you see movement in dense environments common in fast-moving team sports like football or ice hockey." Before its NFL Combine debut, NeuroTracker was validated by CogniSens Athletics with elite sports teams in the NFL, NHL, NCAA Division I football programs, EPL and international rugby.
"Players feel that they can see things differently," says Dr. Jocelyn Faubert in a recent television interview. "That is the best feedback possible and why the technology has spread so quickly." In his paper he writes that the speed of perceptual-cognitive processing, "may be one of the main determining factors as to whether athletes will… function well at superior levels." Not only that, but Dr. Faubert proposes that this skill is trainable even in elite athletes.
As a pioneering technique for improving what many sports experts argue to be the most valuable aspect of an athlete's arsenal, NeuroTracker is quickly gaining acceptance at the highest levels of team sports. Leading sports psychologist and Canadian Olympic trainer Dr. Pierre Beauchamp has integrated NeuroTracker into advanced training regimes:
"I find that NeuroTracker integrates well across sports," says Dr. Beauchamp of his Olympic training experiences, "our elite athletes report better reading of game-flow, heightened anticipation of collisions, faster decision making, and ultimately more confidence under high pressure play."
NeuroTracker is quickly becoming an established part of the sport scientist's toolkit for performance measurement and enhancement. With the growing body of scientific research and support underpinning perceptual-cognitive training, the NeuroTracker technique is leading the way in this emerging domain of sports performance enhancement.
About CogniSens Athletics:
Based in Montreal, Canada, CogniSens Athletics Inc. specializes in neurobiological science and technology dedicated to enhancing athletic performance and providing cognitive medical support for team-sport athletes. For more information on CogniSens Athletics and the NeuroTracker Perceptual Cognitive training system, please consult the following sites:
http://www.cognisensathletics.com
http://www.neurotracker.net
# # #