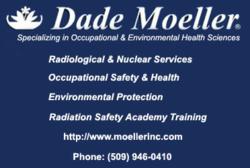 Richland, WA (PRWEB) February 29, 2012
Occupational safety and health firm Dade Moeller announces that employees Mark Watts and Jeremiah "Jer" L. Webster have earned Certified Safety Professional (CSP) credentials from the Board of Certified Safety Professionals. With their certification, Dade Moeller's staff now includes 10 CSPs, as well as 36 Certified Health Physicists and 8 Certified Industrial Hygienists.
A Senior Industrial Hygienist at Dade Moeller since 2010, Watts has more than 27 years of environmental, safety, and industrial hygiene-related experience, including 15 years as a project manager. He currently serves as Site Safety Officer on the 308-A Reactor, 309 Reactor, and 340 Building Vault and Tanks Disposition project under Phoenix Enterprises, NW at the U.S. Department of Energy's Hanford Site. Webster has been an Industrial Hygienist (IH) at Dade Moeller since 2009 and currently works with the Mission Support Alliance as an Industrial Hygienist with ancillary safety responsibilities. He also is an accomplished safety instructor, having provided more than 350 hours of training to hundreds of professionals. Webster served as a Mine Emergency Response Instructor for more than 90 emergency response team members in five different work environments. Both Mark and Jer have worked as an Emergency Medical Technicians (EMT). Mark Watts has served as an EMT and supervisor of up to 15 ambulances in the Puget Sound Region and served for over 12 years as a reserve firefighter for the City of Mukilteo, Washington.
Both Watts and Webster provide their time and expertise to support Dade Moeller's efforts to give free First Aid, cardiopulmonary resuscitation (CPR), and automated external defibrillator (AED) training to its employees. Webster also will be honored by the Benton-Franklin Chapter of the American Red Cross at its "Real Heroes Breakfast" on March 1, 2012, for using his safety expertise to save a life.
To become CSPs, Watts and Webster met the Board's qualifications for education and professional safety experience, as well as passing two examinations.
ABOUT DADE MOELLER: Founded in 1994, Dade Moeller provides a full range of professional and technical services to 156 federal, state, and commercial clients in support of worker safety, environmental, nuclear, and radiological operations. Dade Moeller recently has been recognized as the third fastest-growing environmental consulting firm in North America (The Zweig Letter), the Silver Medal award winner for environmental business achievement (Environmental Business Journal), and one of the best 100 companies to work for (Seattle Business).
###