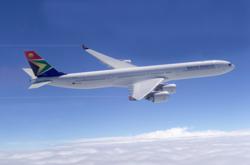 SAA is proud to implement this code share agreement with Air China, which offers our customers added connection opportunities and convenience. - SAA CEO Siza Mzimela
Johannesburg, South Africa (PRWEB) February 29, 2012
South African Airways (SAA) has announced a code share agreement with Air China that will complement SAA's newly inaugurated non-stop service between Johannesburg and Beijing. The agreement will effectively enhance flight choices for customers, whether originating in Africa or China, through seamless connections and frequent flyer mileage opportunities.
Both airlines, which are members of Star Alliance, will introduce code-share services on the main route (Johannesburg-Beijing-Johannesburg) that was launched by SAA on 31 January 2012. The agreement calls for SAA to offer flights with the SA code on Air China-operated flights between Beijing and Shanghai. Air China will in turn be able to offer flights with its CA code on SAA's service between Beijing and Johannesburg. In addition, SAA Voyager members will earn miles for flying on the SA-coded flights between Beijing and Shanghai. The new flight options will be available for booking and purchase from 28 February 2012, for travel as of 1 March 2012.
"The introduction of aviation links between nations nurtures economic activity, with domestic and regional benefit within the Southern African Development Community (SADC) expected to pay dividends both in terms of trade and tourism," said SAA CEO Siza Mzimela. "This code share agreement with Air China is meant to facilitate those benefits for both African and Chinese interests, as well as for other growing economies, such as Brazil, which now has easy and convenient access to China through SAA's service."
Mr. Wang Mingyuan, Senior Vice President of Air China said, "Air China always takes passenger-oriented service policy, and endeavours to provide safe, fast, convenient and satisfactory air transport services to our customers. I believe that through joint efforts with South African Airways, we will provide more choices and high quality services to the public travelling between China and South Africa."
"SAA is proud to implement this code share agreement with Air China, which offers our customers added connection opportunities and convenience, allowing for seamless travel to China's main business centres," added SAA CEO Mzimela. "Customers of both airlines will benefit from the options to travel between two burgeoning economies with two airlines that offer outstanding service within their respective markets."
SAA launched its first-ever non-stop flight from Johannesburg to Beijing on 31 January 2012. It was the first of three new weekly flights between South Africa and the Chinese capital. The direct route between South Africa and China will play a strategic role in increasing tourism, trade and other economic relationships between the respective countries.
To learn more about the code share services offered by SAA and Air China, please call SAA reservations at +2711 978 1111 or visit http://www.flysaa.com.
Issued by:
Dileseng Koetle
Head Group Corporate Affairs
Tel: +27 11 978 2298
Mobile: +27 83 400 0041
Email: DilesengKoetle(at)flysaa(dot)com or media(at)flysaa(dot)com
Web: http://www.flysaa.com
About South African Airways:
SAA is the leading carrier in Africa serving over 20 destinations across the continent, as well as major destinations within South Africa, from its hub, Johannesburg. It is a member of the largest international airline network, Star Alliance. The airline consistently, and annually, receives awards from numerous top-rated publications and international organisations for Best African Airline. The airline carries more than 7 million passengers a year on an extensive route network into the southern Africa, the African continent and internationally on a fleet of modern and new aircraft. Also voted the Coolest Domestic Airline by South African youth. For more information log onto http://www.flysaa.com.
About Air China:
Air China is the only airline company which flies with the national flag. The headquarters of Air China are located in Beijing, and it also has several branch companies such as Southwest, Zhejiang, Chongqing, Inner Mongolia, Tianjin, Shanghai, Guizhou, Tibet, HuBei and Hua'nan base. Air China operates 280 international, domestic and regional routes to 31 countries and regions from its hubs and gateways, reaching 1160 destinations with the network of Star Alliance. Air China has an extensive, high quality clientele. Up to now, the total members of the Frequent Passengers Club of Air China reached 17 million. More information available at http://www.airchina.com.
# # #