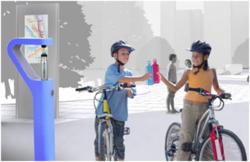 Public parks and city areas will benefit from the additions of these stations. Water is an everyday necessity and should be available for the public at no charge. - S. Dudley
(PRWEB) February 29, 2012
ParknPool kicks off 2012 by adding GlobalTap water fountain bottle fillers to their extensive product line. GlobalTap is an eco-friendly organization that plans to "provide the public with clean, free, and accessible water while decreasing the waste in our worlds environment" (http://www.globaltap.org). Drinking water is vital for human survival. About 75% of Americans are chronically dehydrated because they are not getting the recommended 8 to 12 glasses of water a day (http://www.healthydrinkingwaterblog.com).
ParknPool and GlobalTap believe that clean drinking water should always be provided for public use. Though ParknPool already has a variety of stone aggregate and steel drinking fountains, they did not have a product that was specifically designed for water bottles. ParknPool now offers a wall mount and surface mount bottle filler as well as a bottle filler and water fountain combo. John Good, General Manager of ParknPool, said "ParknPool has been one of the leading online retailers of outdoor site amenities such as drinking fountains, trash receptacles, recycling centers and more for over 13 years. We pride ourselves on our incredible customer service and are always looking to improve our products to provide our clients with anything, and everything they need. These GlobalTap water fountains are a welcomed addition to the ParknPool family."
GlobalTap, and ParknPool, hope to see these environmentally friendly fountains in parks, train stations, office buildings, plazas, airports, sports complexes and more. "These futuristic looking water bottle filling stations and drinking fountains promote the use, and re-use, of refillable water bottles which will shrink the number of plastic bottles thrown away. I can see these being a popular addition to our product line. Public parks and city areas will benefit from the additions of these stations. Water is an everyday necessity and should be available for the public at no charge," believes ParknPool Account Manager, Sarah Dudley.
GlobalTap filling stations are scattered around New York, San Francisco, Washington D.C., Colorado and Toronto, Canada (http://www.globaltap.org/). ParknPool is excited to see these water bottle filling stations or water fountains in other cities and towns this year. For more information about the filling stations, visit http://www.parknpool.com or call 877-777-3700.
ParknPool is a Veteran Owned SBE/WBE Company and is the leading online supplier of commercial grade furniture and site amenities such as picnic tables, trash receptacles, park benches, bleachers and restaurant furniture. ParknPool was begun in 1998 in Orlando, FL and moved their headquarters to Lexington, VA in 2005.
###