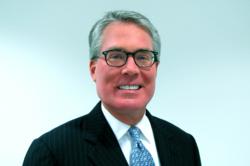 San Antonio, TX (PRWEB) February 29, 2012
The Bexar County Dispute Resolution Center (BCDRC) honored Don Philbin with its Distinguished Service Award for 2011 at their annual volunteer appreciation dinner. BCDRC offers mediation services to businesses and residents of Bexar County and recognized Philbin for his extensive community service, particularly in complicated multi-party and public policy disputes.
Philbin received his Masters of Law degree from Pepperdine's top-rated Straus Institute for Dispute Resolution with additional training and publication through Harvard's Program on Negotiation. His work in mediation and teaching earned him additional accolades in the 2011 calendar year, as he was honored with The Outstanding Lawyer Award in the mediation category from the San Antonio Business Journal in November, recognized as one of 196 commercial mediators worldwide in Who's Who Legal in "Who's Who of Commercial Mediation," and listed again in the second printing of the "Best Law Firm" list by the U.S. News & World Report. Philbin was also listed again in Texas Super Lawyers and Best Lawyers in America published by Woodward/White Inc.
Philbin's newest venture, Picture It Settled™, helps negotiators map-out successful negotiation strategies, calculate strategic moves, and graph paths to optimum settlements. The beta version is set to launch spring quarter, however, Lite versions are available for free download from the Apple Store and Android Market. To learn more about Picture It Settled™ please visit the website at http://www.PictureItSettled.com
Don Philbin
Don Philbin, J.D., M.B.A., LL.M., is an AV-rated attorney-mediator with extensive business, legal, and negotiation experience and education. Don is a founder of the Texas Academy of Distinguished Neutrals, an elected Fellow of the International Academy of Mediators, the American Academy of Civil Trial Mediators, and the American College of e-Neutrals, and was one of the first U.S. mediators certified under the international standards established by the International Mediation Institute. Mr. Philbin's firm has earned a Tier 1 ranking in the U.S. News and Best Lawyers "Best Law Firm" survey. For more information, please visit his website at http://www.ADRtoolbox.com
###