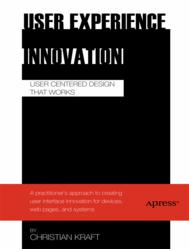 "Christian is a classic 'ideas man' one of the most creative at Nokia, with many innovations and patents to his name."- Erik Anderson, Vice President, Strategy, Business Development and Portfolio Management, Nokia
New York, NY (PRWEB) February 29, 2012
Creating breakthrough innovations is a long sought dream for many. Few companies have succeeded and much has been written on the topic. So what's that key ingredient that makes some products and services utterly successful and others so forgettable? Christian Kraft, one of the most authentic innovators of our time and author of User Experience Innovation: User Centered Designs that Work (Apress, Feb. 2012) has your answer. He says the success of these companies depend on creating successful user experience innovation.
User experience is what makes devices such as Apple's iPhone and systems such as Amazon.com successful. Consumers are not just buying a product from these companies; they are buying into the experience too. In "User Experience Innovation," he provides 17 specific methods for creating innovative user experiences that have all proven successful. Kraft unfolds his insights of the user experience what and how, describing recipes to be followed and dead ends to be avoided.
"Christian is a classic 'ideas man,' one of the most creative at Nokia, with many innovations and patents to his name," says Erik Anderson, Vice President of Strategy, Business Development, and Portfolio Management at Nokia. Kraft is also responsible for creating the SMS Chat feature on most phones today and holds over 100 patents in user experience design. With this book, the author will not only help larger corporations who seek methods to increase creativity and put more focus on innovation but also individuals who want to make innovation more tangible and concretize their ideas into intellectual property rights. Readers will learn how to target the audience for their product and the best way to communicate the product to these users. Kraft provides anecdotes from multiple industries along with real-life examples that users can relate to.
This indispensible guide is written for practitioners by one of their own. The insight that Kraft shares from his firsthand experiences will appeal to product designers, product managers, application and web designers, developers, those that create products, and those that influence design and operation.
For more information on "User Experience Innovation", please visit: http://www.apress.com/9781430241492.

ISBN: 978-1-4302-4149-2
228 pages
User Level: Intermediate to Advanced
Publication Date: February 8th, 2012
Available eBook Formats : EPUB, MOBI, PDF
Print Book Price : $39.99
eBook Price: $27.99
About the Author
Christian Kraft has worked 18 years in the mobile phone industry. His focus has always been on creating user interface and user experience innovation. He is responsible for many of the innovations that made Nokia successful, creating over 100 patents relating to user experience during his 14-year tenure with that firm. He is the inventor of threaded SMS chat, a feature that debuted in the highly-successful Nokia 3310 handset. He is also inventor and designer of the first-ever game for a mobile phone.
About Apress Media
Apress Media is a technical and business publisher devoted to meeting the needs of IT professionals, software developers, programmers, and business leaders with more than 1,000 books in print and electronic formats. Apress provides high-quality, no-fluff content that helps serious technology professionals build a comprehensive pathway to career success. For more information about the innovative approach Apress takes to publishing, please visit http://www.apress.com.
###