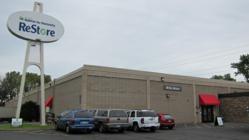 (PRWEB) February 29, 2012
There's an easy way to get rid of all those electronics piling up in your home and help Twin Cities Habitat for Humanity at the same time. The Habitat ReStore in New Brighton is now the best place to drop off your old computers, monitors, televisions, cell phones and other electronics for e-cycling. This service is free and open to the public. Plus the ReStore will earn 1 to 12 cents per pound from your donation – money that'll help fund more Habitat homes.
"This is filling a need," said Michael Urness, ReStore Manager. "There are no other disposal sites in Ramsey County that accept electronics."
The old electronics will go to Vintage Tech Recyclers which is partnering with Habitat for Humanity Minnesota to provide collection programs for Habitat ReStores. Vintage refurbishes the electronics it receives or recovers raw materials to recycle into new products. To ensure data security, Vintage wipes all computer and cell phone hard drives.
"Part of the ReStore mission is reducing waste," Urness explained, "so this collection service will divert both electronics and toxic chemicals found in computers and cell phones from landfills."
The ReStore is celebrating its new e-cycling program on Earth Day Saturday, April 21, from 9:00 a.m. until 3:00 p.m. with special discounts. Drop off your old electronics and then stay to shop and save.
The Habitat ReStore is located at 510 County Road D West in New Brighton. The phone number is 612-588-3820. It's open Tuesday through Friday, 9:00 a.m. – 6:00 p.m. and Saturday, 9:00 a.m. – 3:00 p.m. Find it online at http://www.facebook.com/tchfhrestore
http://www.tchabitat.org/restore
# # #