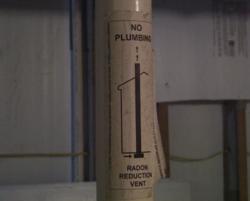 Building healthy homes isn't a luxury, it's a necessity.
Minneapolis, MN (PRWEB) February 29, 2012
Twin Cities Habitat for Humanity's mission is to eliminate poverty housing. But it is also eliminating something else in each new home it builds - radon.
The colorless, odorless, tasteless radioactive gas occurs naturally in soil throughout Minnesota. It is the second leading cause of lung cancer in the U.S, killing more than 21,000 people each year. The Minnesota Department of Health (MDH) estimates one in three Minnesota homes has radon levels that pose a major health risk. But that's not the case for Twin Cities Habitat's new homes.
Since 2010, Twin Cities Habitat has partnered with the MDH's Radon Program to install active radon mitigation equipment in Habitat homes. The system, dubbed the Gold Standard by the MDH, uses a fan and vent to draw radon out of a home.
Twin Cities Habitat was recently named the #1 Gold Standard Builder of Radon Resistant New Construction in the state. This prestigious award means Habitat is among the best in the state at building and rehabbing radon-resistant homes.
"Building healthy homes isn't a luxury, it's a necessity," says Susan Haigh, President and CEO of Twin Cities Habitat. "We take the health of our homebuyer families seriously and we're proud that we've achieved this."
Radon exposure is preventable. For more information on radon testing and mitigation, visit http://www.health.state.mn.us/radon or call MDH's Indoor Air Unit at 1-800-798-9050.
###