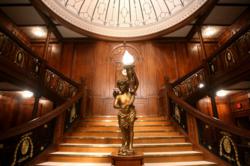 Dearborn, MI (PRWEB) February 29, 2012
One hundred years ago, Titanic, the world's largest ship, sank after colliding with an iceberg, claiming more than 1,500 lives. To commemorate this significant anniversary, The Henry Ford will host the largest touring Exhibition of Titanic: The Artifact Exhibition, in Henry Ford Museum, March 31 through September 30, 2012. Special timed tickets for members are $10. Non-member ticket prices include admission to the museum and are $27 for adults (13-61), $22.50 for youth (5-12), $25 for seniors (62+) and children 4 and under are free. For more information, call 313-982-6001 or visit http://www.thehenryford.org/titanic.
"We are privileged to host this extraordinary exhibit, especially to mark the 100th anniversary of the sinking of Titanic," said Patricia Mooradian, president of The Henry Ford. "Known as one of the greatest innovations from that era, this ship was ahead of its time with its top notch engineering, modern equipment and luxuries. Touted by the media as the ship that was 'virtually unsinkable,' no one could believe the magnitude of this disaster that occurred in April of 1912. As Americans, it's a story that resonates with us all."
This 10,000 square-foot, newly-redesigned and expanded Exhibition features more than 300 artifacts – 250 of which have never been displayed in Michigan. In addition, visitors will walk through extensive room re-creations, be able to have their photos taken near the full-scale replica of the Grand Staircase, as well as learn about passengers on board who had local ties to Michigan.
Upon entering the Exhibition, visitors are quickly drawn back in time to 1912 as each receives a replica boarding pass of an actual passenger aboard Titanic. They then begin their chronological journey and "travel" through the life of Titanic – from the ship's construction, to its on-board passengers, its ill-fated voyage and the amazing artifact rescue efforts that involved divers returning to it in recent years. Guests will marvel at authentically re-created first and third class cabins, stop for a breathtaking glance at the social hub of Titanic – the Grand Staircase – and press their palms against an iceberg to feel its temperature, all while learning countless stories of heroism and humanity.
During the Exhibition, The Henry Ford will host a variety of programming related to Titanic. On April 14, at 7 p.m., one hundred years to the day of the tragic sinking, The Henry Ford will host Titanic Remembered: 100th Anniversary Event where guests will commemorate the event with hors d'oeuvres, a champagne welcome, dinner, dessert, and exclusive access to the Exhibition. Titanic Tuesdays, a speaker and author series held the second Tuesday of each month, will host an array of speakers including Edward Tenner, author of Thinking about the Unsinkable, Stephen Low, creator of the IMAX film TITANICA, and Ken Vrana who will speak on Michigan connections to RMS Titanic. Tickets and more information can be found at http://www.thehenryford.org/titanic.
About The Henry Ford
The Henry Ford, in Dearborn, Michigan, is the world's premier history destination and a National Historic Landmark that celebrates American history and innovation. Its mission is to provide unique educational experiences based on authentic objects, stories and lives from America's traditions of ingenuity, resourcefulness and innovation. Its purpose is to inspire people to learn from these traditions to help shape a better future. Five distinct attractions at The Henry Ford captivate more than 1.5 million visitors annually: Henry Ford Museum, Greenfield Village, The Ford Rouge Factory Tour, The Benson Ford Research Center and The Henry Ford IMAX Theatre. The Henry Ford is also home to Henry Ford Academy, a public charter high school which educates 485 students a year on the institution's campus and was founded in partnership with The Henry Ford, Ford Motor Company and Wayne County Public Schools. For more information please visit our website thehenryford.org.
RMS Titanic, Inc. and Premier Exhibitions, Inc.
Titanic: The Artifact Exhibition is produced by RMS Titanic, Inc. a wholly owned subsidiary of Premier Exhibitions, Inc. RMS Titanic, Inc. is the only company permitted by law to recover objects from the wreck of the Titanic. The Company was granted Salvor-in-Possession rights to the wreck site of Titanic by a United States federal court in 1994 and has conducted eight research and recovery expeditions to Titanic rescuing more than 5,500 artifacts. The Company recently completed its eighth and most ambitious mission to the wreck site of Titanic in summer of 2010. For the first time in history, RMS Titanic, Inc. alongside the world's top oceanographic agencies set out to map the entire wreck of Titanic with the hopes of raising the Ship virtually for future generations.
###